The Pittsburgh Steelers and the Baltimore Ravens typically are trying to win at all costs when they face each other, and Steelers Head Coach Mike Tomlin took it to another level when he interfered with Ravens kick returner Jacoby Jones on a long return:
(We don't really think he did that on purpose, but it was funny nonetheless)
Mike Tomlin probably should have been penalized for being on the field, penalty was called last week against Jets coach on a punt return

— Aaron Wilson (@RavensInsider) November 29, 2013
Mike Tomlin just smiled at the camera after replays of him on video board interfering with the play. — Baltimore Ravens (@Ravens) November 29, 2013
Tomlin should've been penalized for being in field of play on Jacoby Jones kickoff. — Jamison Hensley (@jamisonhensley) November 29, 2013
Just to be clear, Tomlin did not appear to be trying to trip Jones. He was watching the play unfold on scoreboard #Steelers #Ravens — Dale Lolley (@dlolleyor) November 29, 2013
Jets were fined $100,000 for the Sal Alosi shenanigans on a punt return in 2010. How much do Steelers get fined for Tomlin's move?

— ProFootballTalk (@ProFootballTalk) November 29, 2013

Either he or the Steelers should be penalized/fined for it, as you can tell it affected the return by Jones: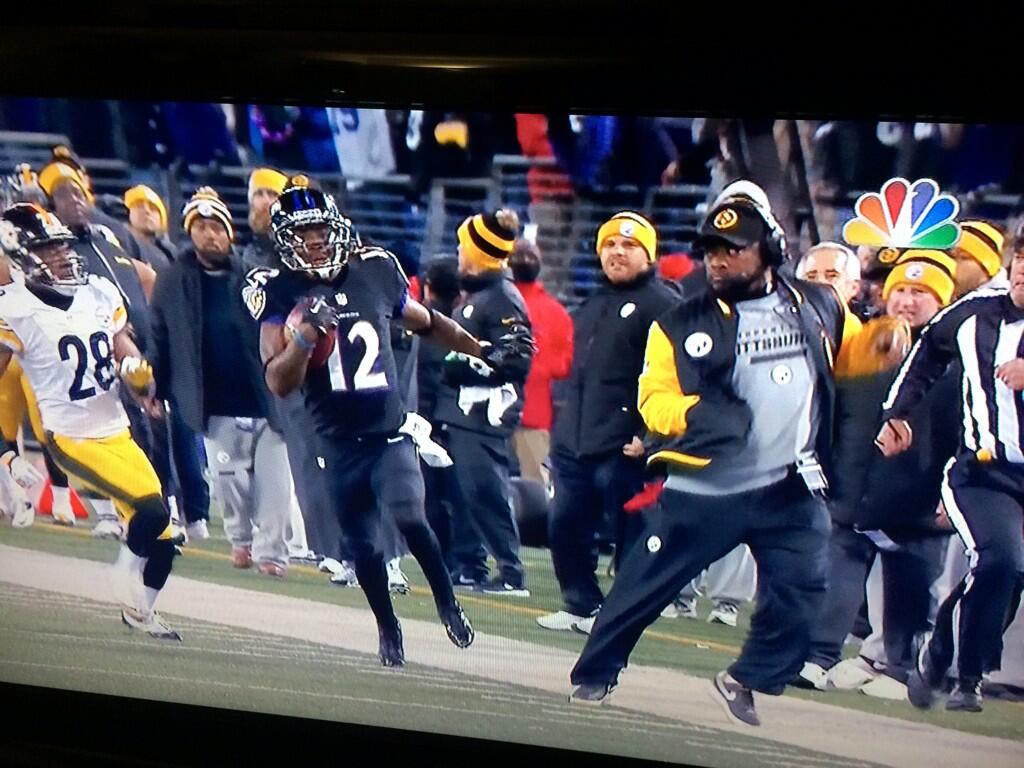 With the Ravens winning the game, 22-20, it ended up not costing them, but it will be interesting to see what discipline comes of this.
Want more Bengals and NFL news like this? Then be sure to like Stripe Hype on Facebook, download the Fansided app on your phone, or grab our RSS feed.
Subscribe to FanSided Daily for your morning fix. Enter your email and stay in the know.
Tags: AFC North Cincinnati Bengals Jacoby Jones Mike Tomlin NFL