Bengals News
Cincinnati Bengals: 5 Players Vital to 2016 Success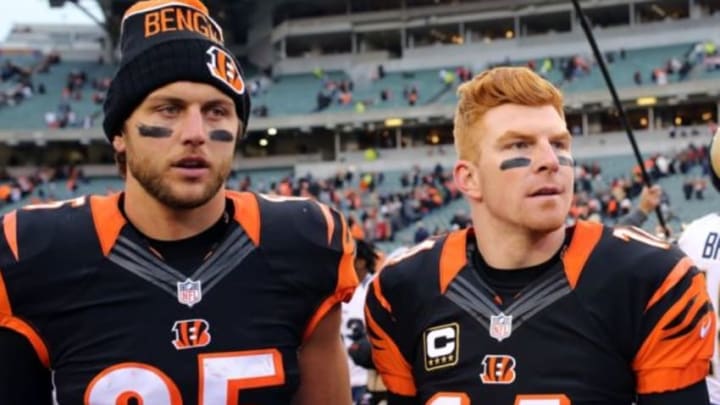 Nov 29, 2015; Cincinnati, OH, USA; Cincinnati Bengals tight end Tyler Eifert (85) and quarterback Andy Dalton (14) against the St. Louis Rams at Paul Brown Stadium. The Bengals won 31-7. Mandatory Credit: Aaron Doster-USA TODAY Sports /
The Cincinnati Bengals have 15 players set to hit free agency. They should be able to keep a few key players, but even if most of their free agents left, there are other guys who will be vital on this Bengals team for success.
Remember what everyone says when there is an injury? There are 53 guys on the roster and even if they lost some of them, the Bengals have depth for someone to jump in and get the job done. Although some of the guys on this list are obvious and important pieces no matter how many guys they keep, others may be unexpected, especially as they grow into a starting role or even play a depth role in the end.
Here is the most obvious person on the Bengals team and one of the most important guys to continue on his incredible tear that he had before his injury last season against the Steelers. As Connor pointed out in his latest article, Andy Dalton's numbers are a focal point heading into 2016. His performance was one in 2015 was what most franchises would love to see on their team.
Whether to credit his performance to Tom House, Hue Jackson, Andy Dalton himself, or even new offensive coordinator and former quarterbacks coach Ken Zampese, the numbers tell the story. In 13 games, Dalton had 386 completions, 3,250 passing yards, 25 passing touchdowns, three touchdowns rushing, one touchdown reception, and only 7 interceptions.
Andy Dalton will need to step up and rely on his instincts, similar to this season. He looked more comfortable being in control of this offense than any previous season. If he can continue make a splash and continue his tear through defenses by finding targets quickly and trusting his accuracy, the Bengals offense is in good hands.
Next: A.J. Green