Men In Stripes: Bengals Training Camp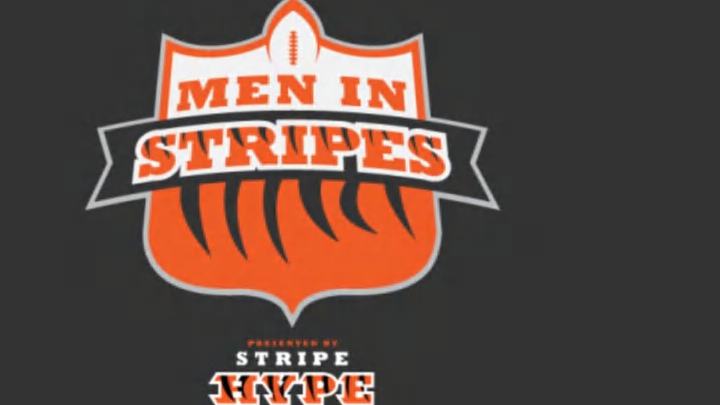 This image is a property of Stripe Hype and FanSided LLC. /
Men in Stripes is now in video form, and still brought to Stripe Hype and FanSided Network as a weekly Bengals podcast.
The Cincinnati Bengals started training camp and the injury bug caught the early and hard.
First, Bengals cornerback and first round draft pick, William Jackson III tore his pectoral muscle, which means he might be lost for the season. Next, the Bengals saw Tyler Kroft and Shawn Williams both leave practice early with more minor injuries.
Ryan Hewitt received an extension of three years, locking him up through 2019. It came just in time for the news of Kroft's injury and the uncertainty of Tyler Eifert's exact time table for returning to the field. He duties if both are out and what he brings once Eifert and Kroft both are back.
Men in Stripes, Bengals Ring of Honor was announced. Here is our list: (two automatic in's, Anthony Munoz, Bob Johnson) 
More from Stripe Hype
The Fans:
Tim:
Ken Riley
Ken Anderson
Lamar Parrish
Matt
Boomer Esiason
Willie Anderson
Ken Riley
Tim Krumrie
Jim Breech
Our way to early preview goes into Washington in London and New York Giants. Bengals face Josh Norman in a new environment, Jay Gruden is a Bengals copycat. Odell Beckham Jr. is overrated, Eli Manning will be the key to the game.
Finally, Picking up or Putting down:
Andy Dalton being a mid-tier quarterback in Madden '17?
Tyler Kroft will be ready for the season opener?
Brandon Boykin injury is going to hurt the Bears worse than William Jackson's injury to the Bengals?
Chicago Deep Dish is better than New York Style pizza?
We are really excited about the new video format. Keep checking us out weekly on Men in Stripes on YouTube. Also find us on Twitter and follow Stripe Hype on Facebook.