Cincinnati Bengals: What We Learned In Preseason Game One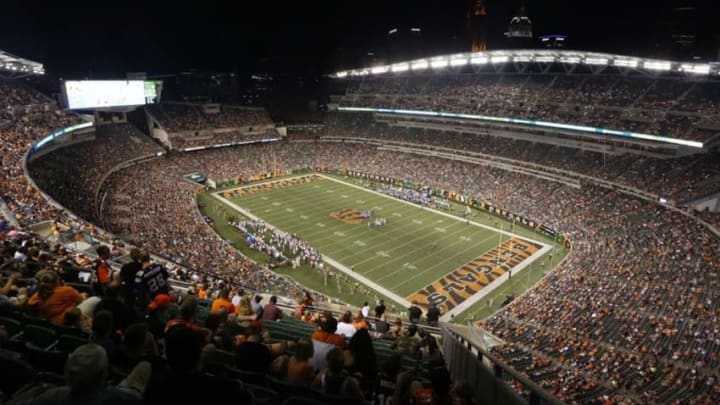 Aug 12, 2016; Cincinnati, OH, USA; A general view of Paul Brown Stadium during a preseason NFL football game with the Minnesota Vikings and the Cincinnati Bengals. Mandatory Credit: David Kohl-USA TODAY Sports /
The Cincinnati Bengals faced off against their training camp foes, the Minnesota Vikings. Here are a few things we learned in their preseason week one match up.
The Cincinnati Bengals played host to the Minnesota Vikings on Friday night to open up their four game preseason schedule. The game taught us a few things about what the Bengals are ready for and what they need to work on a little more before the regular season.
Geno Atkins is Still a Beast:
In the first Bengals defensive series, Geno Atkins was in the back field for two of the three plays he participated in. He continues to be the leader of this defense both physically and emotionally. Although we didn't expect him to skip a beat, many people were worried about his being double teamed, which he still sacked Teddy Bridgewater despite the extra attention.
Injuries are Still a Concern:
Jeremy Hill left Thursday's game with a stinger to his left hand, which he seemed to be bothered by early in the first drive. He seemed to enter the game again in the second drive and was bothered by it a second time and left for good, leaving Peerman to fill in. Kroft will be out four to six weeks with a sprained ankle and Hewitt looked good. 
More from Stripe Hype
Dalton and Green Picked Up Right Where They Left Off:
Andy Dalton and A.J. Green did not wait to pick right up where they left off when Dalton got injured in week 14. Green went for three catches on four targets, going for 26 yards. Dalton connected on four passes of five attempts for 35 yards. They both looked sharp and they moved the ball down the field before Nugent missed a 48 yard field goal.
Nugent Still Struggling:
The biggest fear in every Bengal fans mind, will Mike Nugent be able to hit field goals more consistently. The answer on Thursday was no. Mike Nugent missed a 48 yard field goal that ended up being the difference on at the end of the game. The Bengals can not afford him to miss field goals, especially with them missing Eifert and Kroft early on.
Next: Bengals Answer Big Questions
The Bengals had a solid start and the first team looked incredibly good. If they can continue to improve and get healthy, this team could be a force when the regular season begins.