Cincinnati Bengals: The Bengals are Still in this Division Race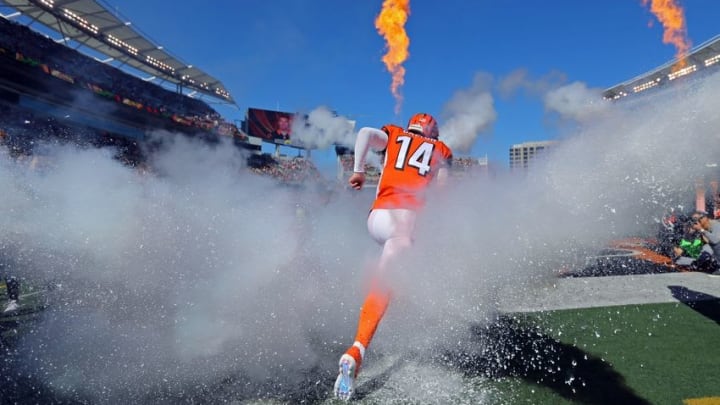 Oct 23, 2016; Cincinnati, OH, USA; Cincinnati Bengals quarterback Andy Dalton (14) takes the field during player introductions prior to the game against the Cleveland Browns at Paul Brown Stadium. The Bengals won 31-17. Mandatory Credit: Aaron Doster-USA TODAY Sports /
The Cincinnati Bengals moved to 3-4 with a huge home win over the Cleveland Browns. In a division where everyone else lost for the second straight week, the Bengals are still in the division race.
The Cincinnati Bengals were two games out of first place in the division the past two weeks, However, the Browns, Ravens, and Steelers have all put up a loss for two weeks straight. Allowing the Bengals right back into this divisional race.
The Bengals are now 3-4 on the season before heading to London this week to face the Washington Redskins. The have a chance to head into the bye week 4-4 and looking at a brand new season after week nine.
The Steelers latest loss was at the hands of the New England Patriots. They are now 4-3 on the season, and with Big Ben expected to miss at least three more games, they could be looking at a difficult task to go 2-1 over the next four games. They face the Ravens next week in Baltimore, hosting the Dallas Cowboys, and then in Cleveland against the Browns.
More from Stripe Hype
The Ravens have just struggled after winning their first three games of the season, dropping four straight. They will host the Steelers next week, who they have won four straight against and are missing Ben Roethlisberger, who is arguably their top offensive weapon, which could lead to a three-way tie for first place if the Bengals and Ravens win next week.
The Cleveland Browns are not mathematically out of this division, four games behind the Pittsburgh Steelers. However, their 0-7 record has them all but fighting for the first overall pick in 2017. The Browns can still make an impact on the division with four division games still to play. They could possibly get a Ben-less Steelers team, which could earn them their first win.
The Cincinnati Bengals are one game out of first place. With four more division games to play, they are still right in the thick of this race. The only question is can they find a way to win the rest of their schedule?