3 Bold moves for Cincinnati Bengals' postseason return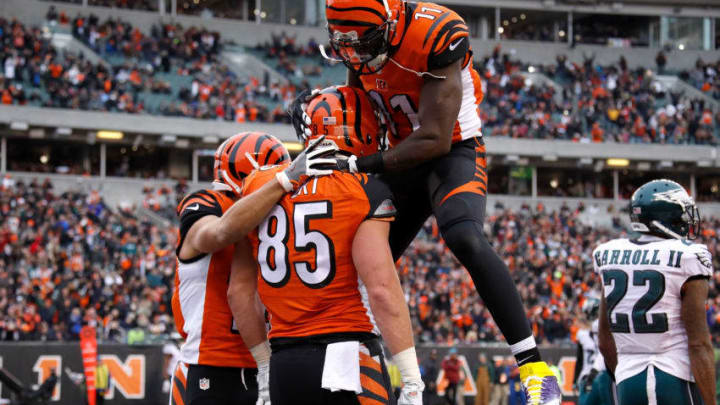 CINCINNATI, OH - DECEMBER 4: Tyler Eifert /
(Photo by Andy Lyons/Getty Images) /
The Bengals have enough firepower to make a quick postseason return. But, there have to be certain moves made to make that a real possibility.
With training camp breathing down the collective necks of the Bengals, there should be one thing on their minds. No, not the scorching Cincinnati heat. Getting back to the playoffs has to be a priority. After a surprising exit from the postseason dance, the Bengals will be expected to return with a vengeance. The 2016 season was derailed by unexpected injuries, confusion on offense and half a season of defense. The upcoming campaign has to be a year of daring moves and out of the box thinking.
It's actually not that hard. The bottom line is all about the Bengals doing what's necessary to keep playing deep into January. Preferably, the end date will be February 4, 2018. That should be followed by a parade, hordes of fanatical people on Fountain Square and wild shots of players holding the Lombardi. Is that too much to ask for? If you're a diehard member of the Orange & Black fan club, that would complete your bucket list.
In order for the Bengals to even sniff the postseason, there have to be a few moves made. Even though they're no-brainers, Marvin Lewis & Co. need to be on board with the process. Otherwise, it's just a bunch of theoretical, Jedi nonsense being blown up everyone's tush.