3 Bold moves for Cincinnati Bengals' postseason return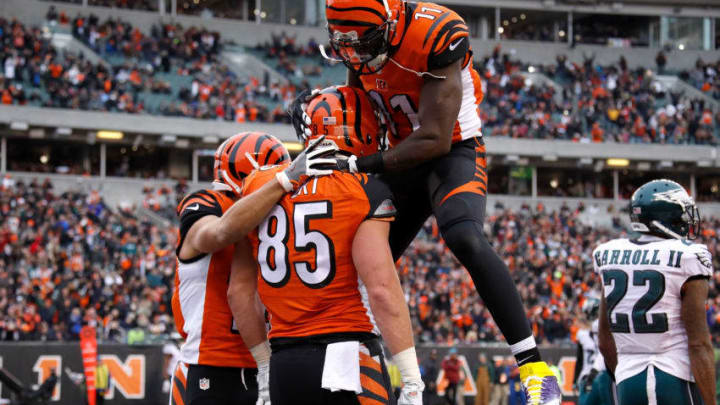 CINCINNATI, OH - DECEMBER 4: Tyler Eifert /
(Photo by Rob Foldy/Getty Images) /
Marvin Unleashed…The Other Side
No, it's not the release of an acoustic recording by Lewis. He may have some musical talent, but his skills will be needed on the sidelines this year. There can be no more Mr. Nice Guy. Players have touted the benefits of playing under Lewis. He's known as a player's coach around the league. In fact, that was one of the drawing cards for Kevin Minter. 
More from Bengals News
""It was cool to sit down with a guy who has been a head coach for so long and just have conversation like that," Minter said, per Bengals.com. "I understand why so many people have so many good things to say about Marvin Lewis. It gave me a better understanding why everyone loves that man.""
Think again, Kemosabe. Lewis is liked by many, loved by a few. That lack of endearment is from an 0-7 mark in the postseason. In order for the Bengals to have the drive needed for a return to the playoffs, that smile has to disappear. The con man act has worn thin. It's time for Lewis to get an attitude and demand the best from his players. If veterans aren't making the cut, the rookies have to be thrown into the fire.
The 2017 season has to be boot camp with fangs. Bengals fans have been waiting for the Lewis doppelgänger to appear. With his fate in the hands of his players, this may be the perfect time to let loose.
Along with that change in attitude, there has to be a change in philosophy. Rookies are drafted to eventually play in the NFL. The memo is out, Mr. Lewis. Let the youngsters play.