3 Bold moves for Cincinnati Bengals' postseason return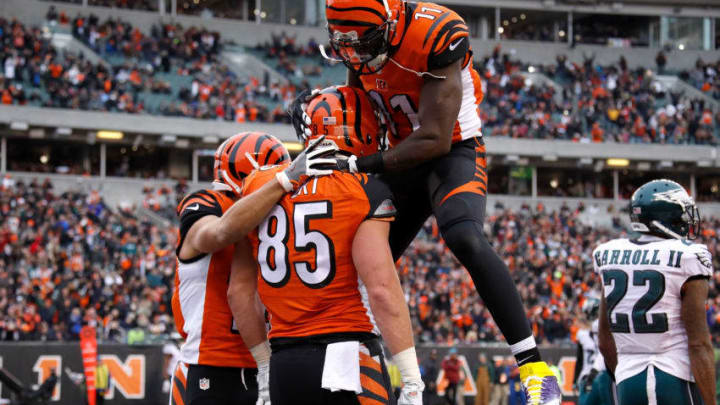 CINCINNATI, OH - DECEMBER 4: Tyler Eifert /
(Photo by Justin K. Aller/Getty Images) /
Three Yards And A Cloud Of Dust
Please don't think this is an outright cry for limited passing. When Woody Hayes coached at Ohio State, it was all about the run. He was conservative to the core. But, the Bengals have an offense packed with enough firepower to do both. With that being said, the running game will play a huge part in Cincy's postseason plans. 
Related Story: Is He Forgiven?
Jeremy Hill has to finally figure out what he wants to be. Hill's offseason workout regimen has him looking lean and strong. But, is that going to hinder him or be his advantage?  Whatever Hill decides to do, it has to be positive. Barring another injury prone season, he has to prove that his contract should be renewed. This is where the new Lewis comes into play.
There's no need to rehash what Hill didn't do last year. What he did do was affirm the disappointment fans felt when he ran the ball. Other than trouncing the Browns, Hill's year was pedestrian at best. Take away those two monster games and suddenly the stats aren't so appealing. Jeremy amassed 560 yards on 188 carries, without those games. His lofty 3.8 rushing average drops to three yards per carry. That's rounding up from 2.978.
If Hill starts the year slowly, Lewis has to pull the plug and let Joe Mixon get more touches. The former Sooner has been impressive, leading up to camp. But, if he can continue the surge into preseason and the rest of training camp, there should be no hesitation to stir things up in the backfield.