3 Bold moves for Cincinnati Bengals' postseason return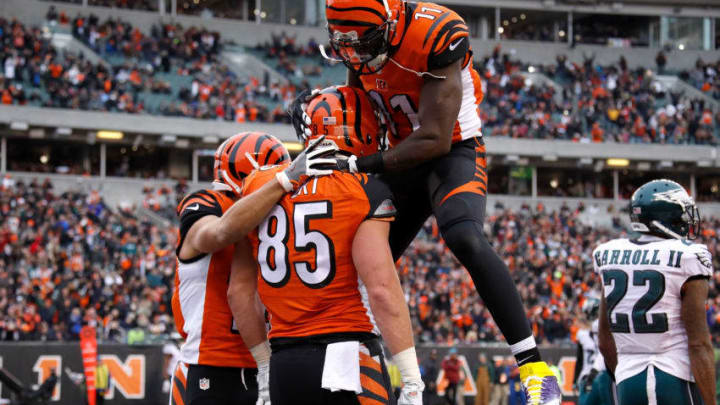 CINCINNATI, OH - DECEMBER 4: Tyler Eifert /
(Photo by Joe Robbins/Getty Images) /
Good Enough For A Nickname 
If you have any memory of the Bengals' defensive glory days, you remember the names. At one point, the Cincinnati secondary was dubbed the SWAT Team. The defensive line was once called the WEBB (calling Dr. Google). DC Paul Guenther has to get the troops back to that level.
The Bengals have a stockpile of speed, versatility and power on defense. In fact, Vontaze Burfict, Nick Vigil and Minter are just three of the brainiacs on the Bengals' D.
To separate themselves from the AFC North pack, the defense will have to be on point the entire campaign. When the Bengals journeyed to the Super Bowl in 1981 and '88, the X's were a dominant force that kept Cincinnati in most games and won some others. But, that means putting the best squad on the field and letting them gel ala Dick LeBeau, Hank Bullough and Mike Zimmer.
When the familiar question of what wins championships is tossed into the ring, the Bengals should be among the top ten units. Going into camp, Cincy has the tools to be a dominant defensive force in the AFC.
Next: Green's Left Hook Is Mean
There should be no second-guessing, when it comes to what has to be done to recapture the North. Putting a sound, stout defense on the field will improve the chances of a postseason berth.
Time to think outside the box, blitz like there's no tomorrow and take no prisoners within the division.