Potential Round One Draft Day Trades for the Bengals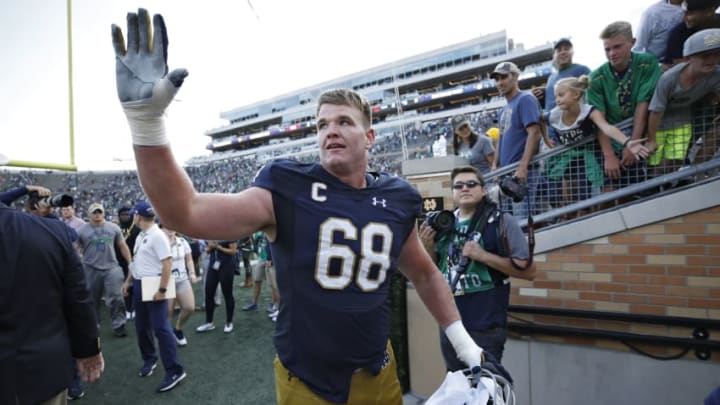 SOUTH BEND, IN - SEPTEMBER 02: Mike McGlinchey /
The Bengals have already traded back once this year. Will they look to trade their pick again on draft day and who would they target?
The Cincinnati Bengals tend to be one of the more conservative teams when it comes to trading draft picks. Since 2005, they've only used their first-round pick in a trade twice, one of which was this year's 12th overall pick. The only other time the Bengals have traded firsts recently was with the Patriots on draft night in 2012, when they traded back for Kevin Zeitler that year.
Knowing the Bengals' history, it seems unlikely that they'll move from pick 21 this year. However, there are a few trade possibilities worth exploring depending on who the Bengals are targeting this year.
CIN receives: SF 1-9, SF 2019 4th
SF receives: CIN 1-21, CIN 2-46, CIN 2019 2nd
The Bengals would only look to trade up this high if they were looking for Dalton's successor. Though a few of the top quarterback prospects will be off the board by pick 9, at least one or two of the elite QB prospects will be available. In particular, Louisville QB Lamar Jackson should be available. The Bengals already seem to have some interest in Jackson.
If the Bengals latch onto Jackson as "their guy," this is the kind of drastic move necessary to ensure he'll be a Bengal. Both Miami and Buffalo at picks 11 and 12 are QB hungry, and they may be landing spots for Jackson should he get to them. To be safe, the Bengals would have to trade into the top 10.
The Chiefs set the price for this kind of trade last year, going from 27 to 10 to get quarterback Patrick Mahomes II. In order to get there, the Chiefs had to give up their 2017 and 2018 firsts as well as their 2017 third. This is more than the Bengals would be giving up in my trade, but the Chiefs had more ground to cover. Using Chase Stuart's draft chart, the proposed Cincinnati-San Fran trade would actually be a slight overpay by the Bengals.
Regardless, if the Bengals decide they need a new franchise quarterback, getting into the top 10 is imperative. Jackson is the certainly the most likely candidate, but other prospects like UCLA's Josh Rosen could fall to the back of the top 10 too.
CIN receives: GB 1-14
GB receives: CIN 1-21, CIN 3-100
In the very likely case that the Bengals don't trade into the top 10, I could see the Bengals using their wealth of picks to get one of their top prospects in this class. Hypothetically, Jackson could still be available at pick 14, but I would not bank on it. The top QB prospects should all be gone by the time pick 14 comes around.
The guy I'd have in mind as a target at 14 is Notre Dame OT Mike McGlinchey. In a notably weak tackle class, McGlinchey stands out as one of the few elite prospects. He has elite measurables for an NFL tackle and had a dominant college career, finishing as a semifinalist for the Outland Trophy (best offensive or defensive lineman) last year. McGlinchey also played some RT in college, so he's comfortable on both sides of the line. That versatility would work nicely on the Bengals with new LT Cordy Glenn.
I think if the Bengals really want to go after McGlinchey or a similarly elite prospect, they'll have to get into the top 15. Especially with regards to McGlinchey, it's hard to see him falling past teams like Arizona (15), Los Angeles (17), and Seattle (18). The Bengals would have to vault all these teams in order to lock up McGlinchey.
CIN receives: IND 2-36, IND 2019 3rd
IND receives: 1-21
I don't think the Bengals will want to trade out of the first round, but it's not an impossible scenario, especially if they get a high round two pick. For this trade, I chose Indianapolis because I could see them trading back into the first round to target an elite WR like Courtland Sutton or Calvin Ridley.
If Cincinnati does decide to trade back, they will likely target interior offensive linemen in the early second round. Prospects like G Will Hernandez, C Frank Ragnow, and C Billy Price should still be available by pick 36 or even pick 46. This would allow the Bengals to bolster their O-line with two of these high-level linemen, or one of them and a defensive player like DT Taven Bryan or LB Malik Jefferson.
Next: Marvin Lewis talks offseason moves and draft
Trading back would eliminate the Bengals' ability to grab a truly elite prospect, but focusing on the interior of the O-line on Day 2 is a solid strategy. Center is the biggest hole on the line right now, so waiting on a reliable center prospect until the second round works well. I intrinsically trust the Bengals' scouting, so I believe they could still grab two really solid players with those two second-round picks if they did trade back.