Cincinnati Bengals: Why Zac Taylor is winning the locker room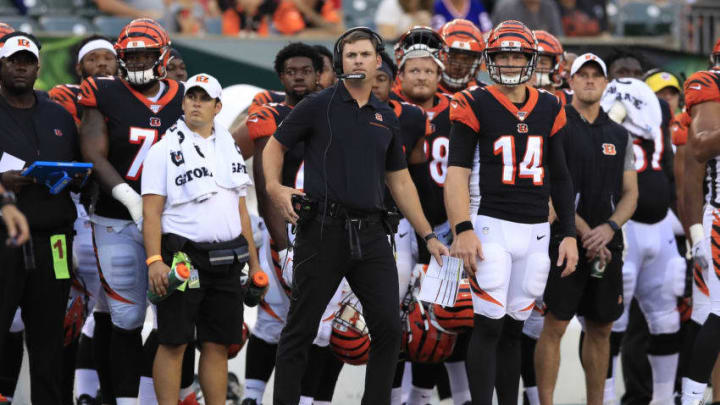 CINCINNATI, OHIO - AUGUST 22: Zac Taylor (center in black) the head coach of the Cincinnati Bengals watches the action against the New York Giants at Paul Brown Stadium on August 22, 2019 in Cincinnati, Ohio. (Photo by Andy Lyons/Getty Images) /
The Cincinnati Bengals got exactly what they were looking for in first-year head coach Zac Taylor. A positive for an organization needing bold moves in the locker room.
Even though they are 1-2 in the preseason, the Cincinnati Bengals have more than a few good reasons to be happy with their new head coach. In relatively short order, Zac Taylor has left the past behind for a new way of doing business. The team is hitting less, there is a focus on keeping players fresh, and most impressive, he's not waiting for success.
That's right. Taylor could say he's hamstrung by injuries and a few players who haven't performed well.
No A.J. Green? No problem.
Billy Price not living up to expectations? We have someone else.
Is John Ross still not ready to go? Ok.
It's not ideal in Cincinnati but seldom is it in the NFL. Taylor is moving full speed ahead with the guys who can dress and get on the field. Injuries happen, and I get that. But if the preseason has shown one thing, it's that the adversity presented via injuries and those not performing has opened the door for a few others to show what they got, and that looks to be working just fine.
Damion Willis is perhaps the best example of what can happen when you leave the door cracked just a little. In the absence of receivers like Green and Ross, Willis didn't just sneak in, he knocked the door down. That's not to say he will keep a veteran off of the field once he's healthy, but who knows. If he performs, how does Taylor keep him off of it?
Taylor has played all this the right way. He's going with who he's got. He's not waiting for a perfect situation, he's playing to win Week 1 at Seattle. If you're a fan, that's all you can ultimately ask for.
Give Taylor all the credit in the world. He doesn't care about where you were drafted or even if you were. I mean, ask Price how the 2019 exhibition season is going for him. He's parked on the bench hoping for his next shot. Maybe it happens for him in Cincinnati or maybe it doesn't.
Week 1 in Seattle will feature a Bengals team in the image of Taylor. You won't mistake it for what Marvin Lewis was doing either in Cincinnati. That's great news for fans, not so much for the guys who are on the outside looking in.