Cincinnati Bengals: 3 who need a big game in Seattle for Week 1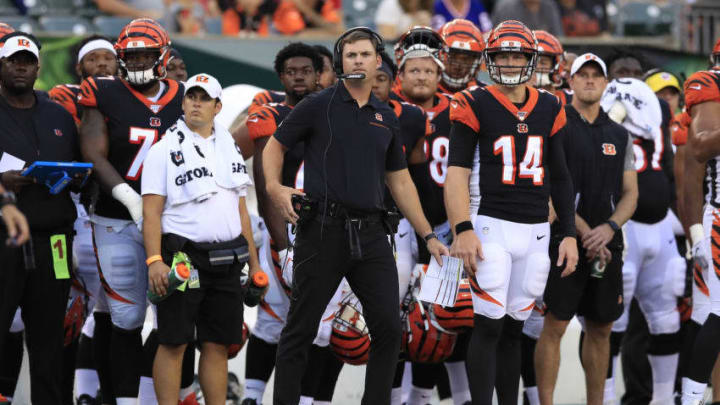 CINCINNATI, OHIO - AUGUST 22: Zac Taylor (center in black) the head coach of the Cincinnati Bengals watches the action against the New York Giants at Paul Brown Stadium on August 22, 2019 in Cincinnati, Ohio. (Photo by Andy Lyons/Getty Images) /
KANSAS CITY, MO – AUGUST 10: Head coach Zac Taylor of the Cincinnati Bengals calls out instructions during the third quarter against the Kansas City Chiefs at Arrowhead Stadium on August 10, 2019 in Kansas City, Missouri. (Photo by Peter Aiken/Getty Images) /
Zac Taylor will finally take the wraps off of an offense fans and the league has yet to see. That's a simple way of saying if there are surprises to be unveiled, Week 1 against a team like the Seattle Seahawks is the time to show off a few.
In a perfect world, an opponent like Seattle happens a few weeks into the season. That said, it's one heck of a test for a first time head coach and the aspirations of a city hungry for a winner.
Taylor has a chance to make an impact early. A win against the Seahawks and that insane 12th Man would be immediate credibility for a rookie head coach and the team he has charge of.
However…,
Winning in Week 1 against this opponent will be a tall order. He'll need an offensive game plan that functions at a high level for 60 minutes, offers few if any turnovers, and is effective against what will be a hyper-aggressive defense lead by Clowney.
Taylor has the benefit of having worked for a winner in Los Angeles. He'll have some offensive wrinkles and might need to take a risk or two his predecessor would not have taken.
Week 1 in Seattle is a lot of things for this rookie head coach. It's also a huge test that provides little room for error.