The current state of the Cincinnati Bengals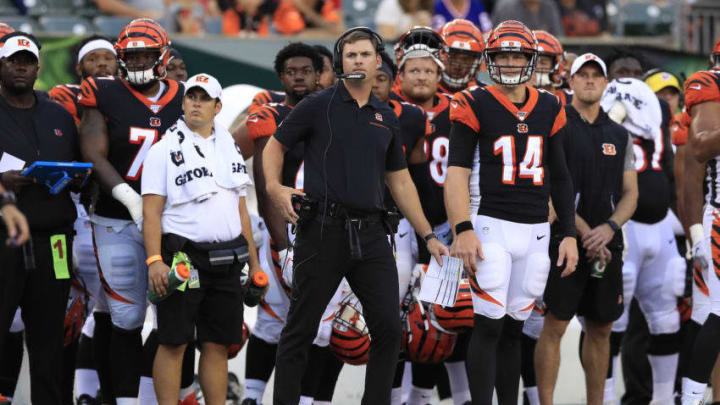 CINCINNATI, OHIO - AUGUST 22: Zac Taylor (center in black) the head coach of the Cincinnati Bengals watches the action against the New York Giants at Paul Brown Stadium on August 22, 2019 in Cincinnati, Ohio. (Photo by Andy Lyons/Getty Images) /
With the Cincinnati Bengals sitting at 0-6, this season has been a disappointment, to say the least. We all knew it was going to be bad, but this bad?
It's hard to tell what direction the front office wants to go with this team. Everything I've seen this season tells me this franchise desperately needs to go into a rebuild, so why hasn't the front office made any big moves? The Cincinnati Bengals have plenty of trade pieces that would allow them to stock up on draft picks and clear some cap space in preparation for the future.
A.J. Green, Andy Dalton, Carlos Dunlap, Tyler Eifert, and Dre Kirkpatrick could all be brought up in this conversation. They all are on the older side of the roster and the higher paid side of the roster. While I like all the players I mentioned, it could be time to part ways.  I don't believe this team can be in a position to win a lot of games before these guys retire. If the front office can move these guys for early-round picks and clear a lot of cap space I don't see a reason not to do it.
With Cordy Glenn unlikely to play in a Bengals uniform again, it leaves another spot on the offensive line that needs filled. Hopefully Jonah Williams will pan out next year and if Billy Price continues to play well at guard the Bengals will only have two offensive linemen with secure spots heading into next season. Their best bet would be to get some more early-round picks to take offensive linemen and hope a couple hit. If they a lot trade some older guys on the roster they'll clear cap space to sign some younger offensive linemen.
If the Bengals plan isn't to rebuild, and it's to add to the roster they already have, they'll have plenty of spots to fill this offseason. The offensive line and linebackers could use some new talent while the secondary could possibly use help as they struggle to stay on the field due to injury.
If the Bengals chose to rebuild around this young talent, I think it would benefit them greatly. Joe Mixon, Tyler Boyd, John Ross, Sam Hubbard, Jessie Bates, and William Jackson are a couple of good young players already on this roster. If they can get a good offensive line and a solid defense around them, this young core can shine.