The Stripe Hype team weighs in on the state of the Cincinnati Bengals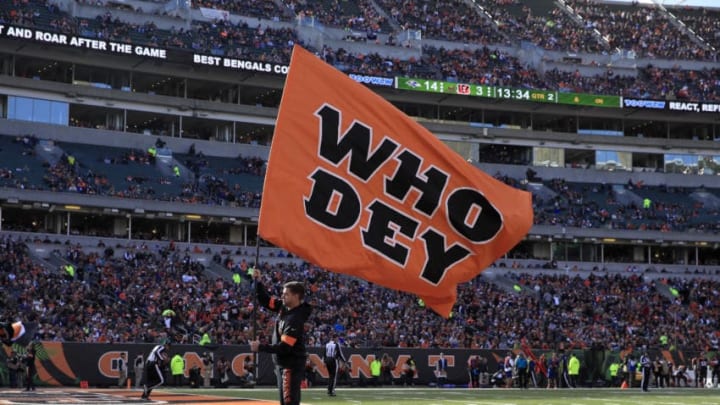 CINCINNATI, OHIO - NOVEMBER 10: A Cincinnati Bengals cheerleader performs during the game against the Baltimore Ravens at Paul Brown Stadium on November 10, 2019 in Cincinnati, Ohio. (Photo by Andy Lyons/Getty Images) /
Mike Browns tenure as owner/general manager has not instilled faith in this franchises loyal fanbase. (Photo by Joe Robbins/Getty Images) /
If there is one example that best depicts where the Cincinnati Bengals currently find themselves, it's in a trade deadline that screamed for something to get done.
Guess what? Nothing was done, and this franchise may pay for that inactivity for a long time.
Mike Brown and his minions continue to count on a fanbase perhaps more interested in having a team than in having a team who wins. It's a calculation that receives some validation by those who simply turn out for the event rather than demand a winning product.
0-for-2019 could be this organization's undoing. The Bengals have been just good or potentially just good enough to keep fans in the stands. But as winners roll through Paul Brown Stadium, the more realistic fan wonders "why not us?"
Why not?
The San Francisco 49ers were 4-12 last season and are now 8-1. Cincinnati lost to them 41-17. In 2016, the Los Angeles Rams were 4-12. They made the playoffs in 2017 after finishing 11-5 and in 2018, went to the Super Bowl after improving to 12-4. In Week 8, the Bengals lost to LA 24-10 in London.
The bottom line is both organizations had a plan to improve. San Francisco has used the draft and also traded for quarterback Jimmy Garoppolo. Los Angeles traded up to select Jared Goff in 2016 and has been aggressive in free agency and in trades to be in a position to get to the postseason.
The dormant Bengals don't do any of the above.
Mike Brown has become Nero as his Cincinnati franchise resembles a dumpster fire desperate to be extinguished.
This organization needs a plan. It needs direction. It screams for change at the highest levels if it is to be anything other than something to do on a Sunday afternoon in the Queen City.
Steve Rivera is a co-expert at Stripe Hype, follow him on Twitter @iamsteverivera