The Stripe Hype team weighs in on the state of the Cincinnati Bengals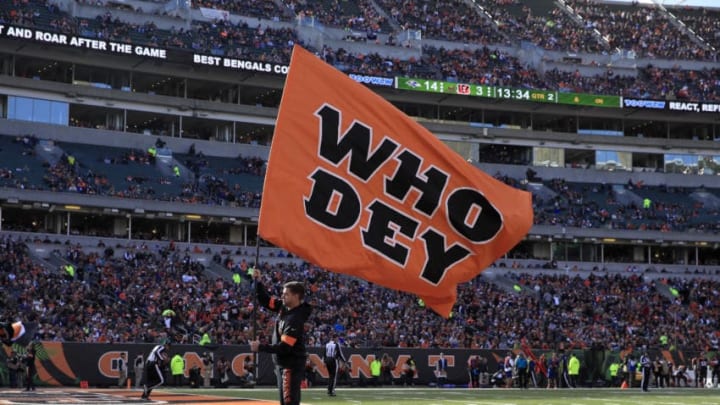 CINCINNATI, OHIO - NOVEMBER 10: A Cincinnati Bengals cheerleader performs during the game against the Baltimore Ravens at Paul Brown Stadium on November 10, 2019 in Cincinnati, Ohio. (Photo by Andy Lyons/Getty Images) /
SEATTLE, WA – SEPTEMBER 08: Cincinnati Bengals head coach Zac Taylor yells instructions on the sidelines against the Seattle Seahawks in the second quarter at CenturyLink Field on September 8, 2019 in Seattle, Washington. (Photo by Lindsey Wasson/Getty Images) /
I'm not big on taking sides, but I don't think there is one specific way to fix the Cincinnati Bengals right now. There isn't one specific thing that got them where they are now either. Considering Tyler Eifert is the last Pro Bowler the organization drafted, I have no issue with them standing pat at the trade deadline.
That being said, the journey back to respectability starts with picking the right quarterback in the first round of the 2020 draft whether it is Tua Tagovailoa, Joe Burrow, or Justin Herbert will come down to organizational preference, they have to get that call right. Make no mistake, as good as Chase Young is, the three quarterbacks are Cincinnati's only options at the top of the draft.
This roster has way too many holes to fill in one offseason. However, this organization has not won a playoff game since the 1990 season. It can't afford to wait another ten years to be good again.
Given their current state, the quickest way back from the bottom is to find a quarterback who can cover up some of the holes the way guys like Russell Wilson do. At least, one of the three guys mentioned above will be that type of player.
Lastly, I am not convinced Zac Taylor isn't completely overwhelmed as a head coach, but the Bengals don't fire people in a hurry. Thus, the work Taylor does with whatever young quarterback he gets to work with next year will make or break him.
Dylan Streibig is a co-expert at Stripe Hype, follow him on Twitter @DoubletoughDyl