The Stripe Hype team weighs in on the state of the Cincinnati Bengals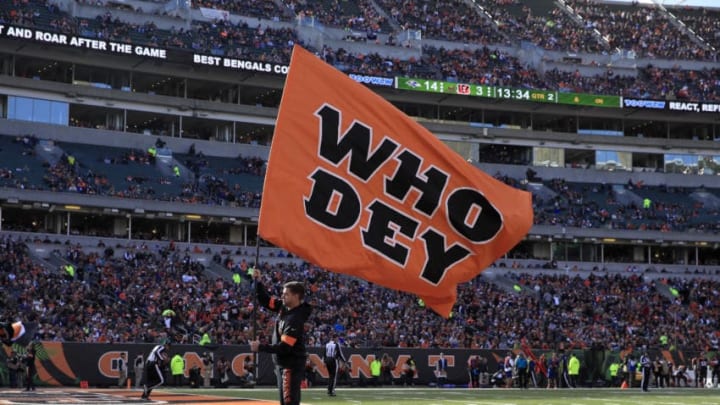 CINCINNATI, OHIO - NOVEMBER 10: A Cincinnati Bengals cheerleader performs during the game against the Baltimore Ravens at Paul Brown Stadium on November 10, 2019 in Cincinnati, Ohio. (Photo by Andy Lyons/Getty Images) /
CINCINNATI, OHIO – NOVEMBER 10: Andy Dalton #14 of the Cincinnati Bengals watches from the sidelines during the game against the Baltimore Ravens at Paul Brown Stadium on November 10, 2019 in Cincinnati, Ohio. (Photo by Silas Walker/Getty Images) /
Right now, absolutely nothing is going right for the Bengals. However, they've made some moves that seem to indicate big changes are on the way. The first being Andy Dalton getting benched. From my perspective, the Bengals should lose exactly the number of games that are necessary to secure the number one overall pick. While I would love to see them get a win, in the long run, I would get more satisfaction seeing them make a run in the playoffs. Getting a quarterback #1 overall is the best way to do that, in my opinion. I want them to have the freedom to select their guy no matter what and not have to settle for their second or third option.
The next thing that indicates a change is Preston Brown getting cut. Zac Taylor voiced his frustrations with the unit and lack of leadership and the very next day Brown was gone. This likely indicates they believe they can overhaul the unit in a meaningful way through young players, the draft, and free agency. I don't think they cut a player like Brown if they aren't planning to change their ways in free agency. There is no way they go into next season without at least one solid veteran starter to lead the group. They have the ability to clear up a lot of cap space and add some real difference makers.
One thing that intrigues me is they are still holding on to Cordy Glenn. This either means Taylor is holding out hope he can play guard/right tackle next year or they're holding on to him to make a trade during the draft. Regardless, he is showing patience in the situation which indicates he has a plan. He seems calm and ready to make the changes necessary to win. I think he's learning from his mistakes and needs an off-season, free agency period, and a draft to get things on track.
Hunter Bittinger is a contributor at Stripe Hype, follow him on Twitter @Hunterbitt46