The Stripe Hype team weighs in on the state of the Cincinnati Bengals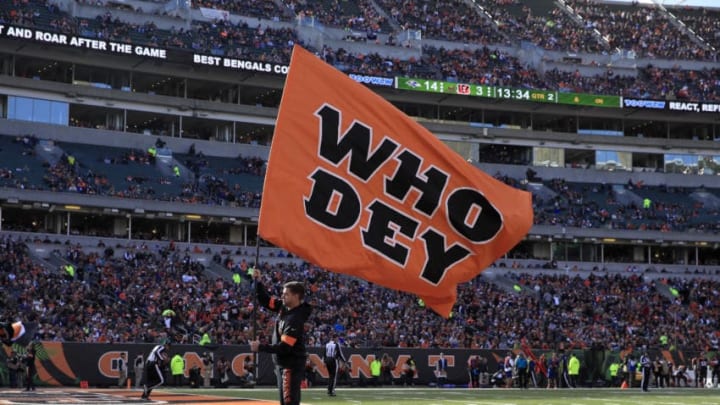 CINCINNATI, OHIO - NOVEMBER 10: A Cincinnati Bengals cheerleader performs during the game against the Baltimore Ravens at Paul Brown Stadium on November 10, 2019 in Cincinnati, Ohio. (Photo by Andy Lyons/Getty Images) /
CINCINNATI, OH – FEBRUARY 05: Zac Taylor poses with Cincinnati Bengals director of player personnel Duke Tobin (left) and owner Mike Brown (right) after being introduced as the new head coach for the Bengals at Paul Brown Stadium on February 5, 2019 in Cincinnati, Ohio. (Photo by Joe Robbins/Getty Images) /
The state of the Bengals right now reminds me of the before picture from a weight-loss commercial. Now hear me out, the Bengals are just like all of us and they have bad habits, they're set in their ways, and they know change is going to be hard so they've made excuses instead of doing what has to be done to get this team in shape.
Now ask anybody who's ever taken a before picture and they'll tell you that there came a moment where they looked in the mirror and they realized that what they saw wasn't good enough. The choices they've made have brought them to the point where they realize that change must occur.
2019 is the mirror that the Bengals organization must look at and reflect on every decision that leads to the team we see on Sunday.
Many will say they simply don't have faith in the front office to learn from their mistakes and get this team back in shape. I'm sure many people held that same opinion after watching Carson Palmer feud with Bengals management and force his way off the team. However, the results of that ugliness were the Bengals becoming perennial playoff contenders for the next half-decade.
Right now Bengals fans are looking at the ugly before picture, but the exciting part is realizing how good the after photo could be.
Logi is a contributor at Stripe Hype, follow him on Twitter @Logi513