The Stripe Hype team weighs in on the state of the Cincinnati Bengals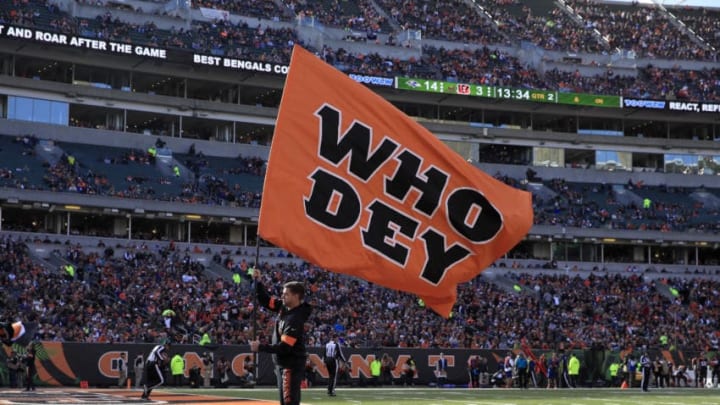 CINCINNATI, OHIO - NOVEMBER 10: A Cincinnati Bengals cheerleader performs during the game against the Baltimore Ravens at Paul Brown Stadium on November 10, 2019 in Cincinnati, Ohio. (Photo by Andy Lyons/Getty Images) /
Ryan Finley, Cincinnati Bengals. (Photo by Andy Lyons/Getty Images) /
The Cincinnati Bengals are in my opinion in a state of transition. This transition really started this past offseason when Marvin Lewis was let go and Zac Taylor was hired. However, I believe this offseason is when you will see an even more noticeable effect on the future of the team. Honestly, this team is in need of an overhaul of sorts.
Andy Dalton has been relegated to the bench now as Ryan Finley has been inserted into the starting line-up so the coaching staff can see what he can do. However, unless Finley just brings an entire culture change to Cincinnati I believe the first thing that should be on the front office priority list is figuring out is which quarterback you are taking in the first round.
The front office, as well as the coaching staff, must get together and figure out who is best suited to be the face of the franchise going forward on this team. Then I believe this team must start looking at purging this roster to an extent. It's time to move on from some contracts and figure out who is a part of the future here.
The fact that Preston Brown has been cut tells me that they could be possibly already headed in that direction. I believe there are a lot of guys playing for roster spots right now. Free agency is a must this offseason. Linebacker and the offensive line must be addressed to some degree in March in order to help the guys taken in April.
Lastly, this coaching staff although new, needs some tweaking. I'm not quite ready to give up on Zac Taylor just yet but I think you have to consider a new defensive coordinator possibly and o-line coach Jim Turner most certainly has to be replaced.
Larry Spicer is a contributor at Stripe Hype, follow him on Twitter @LarryBSpicer