Cincinnati Bengals: What first win does and doesn't mean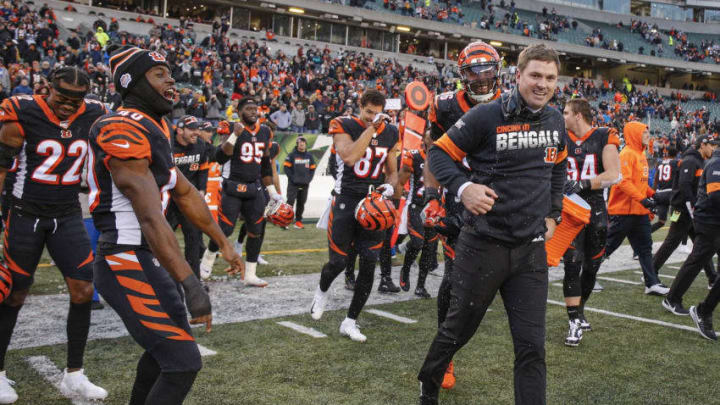 CINCINNATI, OH - DECEMBER 01: Head coach Zac Taylor of the Cincinnati Bengals is seen following the game in which the Bengals picked up their first win over the New York Jets at Paul Brown Stadium on December 1, 2019 in Cincinnati, Ohio. (Photo by Michael Hickey/Getty Images) /
The Cincinnati Bengals finally won their first game of the season Sunday. Let's take a look at the ramifications of the win.
Overreaction Monday is a real thing in the NFL. Generally speaking, every time the Patriots lose, Tom Brady is done and the dynasty is over. When the Cowboys win, Dak Prescott deserves a long term deal. Thus, there is no shortage of reactions to the Bengals improving to 1-11 yesterday Here is an attempt to provide perspective.
What the win does mean
The 2019 Cincinnati Bengals won't be remembered as historically bad. Who knows? They may still end up with the worst record in franchise history or historically bad in some statistical areas.
However, within the larger landscape of the NFL as a whole, notching a single win means they avoid the worst teams ever Mount Rushmore. No one wants that distinction. This year's Bengals are now just another really bad NFL team. They aren't the first and certainly won't be the last.
What the win doesn't mean
No, the Bengals should not switch back to Ryan Finley at quarterback in order to protect their place atop this spring's draft board. First, they still have a game lead on the field. But this is also why I hate the phrase "tanking". Regardless of how good or bad a team is, the players and coaches on the field are always trying to win. "Tanking" has come to imply that the last sentence is not true. In reality, if it exists at all, it is a front office strategy.
Speaking of winning, it is now abundantly clear that Andy Dalton gives the Bengals the best chance to do that right now. Thus, he should and will remain the starter the rest of the way.
That being said, Dalton in Cincinnati has gotten incredibly stale for both him and the organization.  It is time to move on and take a shot at finding the next guy. Even if the Bengals win out and take themselves out of blue chip quarterback territory, guys like Jalen Hurts will likely be available in the second round. Keeping Dalton around for 2020 would be the wrong thing for all parties involved.
Don't be fooled by one win. The circumstances were a bit different due to health concerns, but the Colts drafted Andrew Luck with Peyton Manning under contract. Dalton is not and will never be in the same galaxy as Manning.