Sunday's victory was more than just another win for the Bengals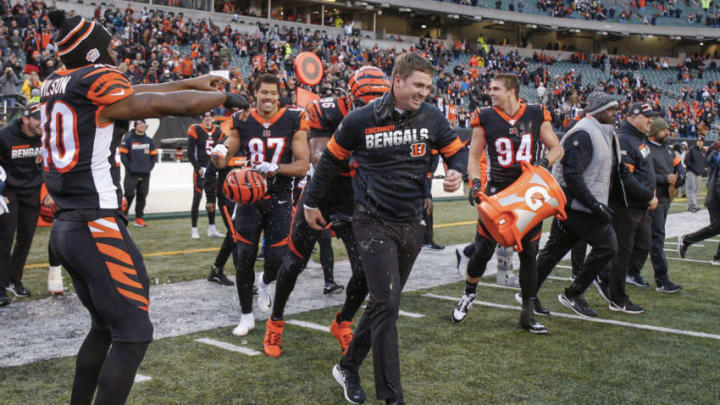 CINCINNATI, OH - DECEMBER 01: Head coach Zac Taylor of the Cincinnati Bengals is seen following the game in which the Bengals picked up their first win over the New York Jets at Paul Brown Stadium on December 1, 2019 in Cincinnati, Ohio. (Photo by Michael Hickey/Getty Images) /
With a win on Sunday, the Cincinnati Bengals were able to save their name from going in the history books in the worst way possible. However, securing a victory over the Jets did much more than simply avoid an 0-16 season. Let's take a look at why Sunday's  win was such an important one.
It took twelve games, but the Cincinnati Bengals and first year head coach Zac Taylor secured their first victory of the season by beating the New York Jets in surprisingly dominant fashion Sunday. Taylor's Bengals put in a complete effort from kickoff to the final victory formation.
This win spared the Bengals from becoming one of the very few teams in NFL history to go winless throughout an entire regular season. However, this win means much more for Taylor. He is in the midst of a major rebuilding effort in Cincinnati.
For starters, the win has to be a much needed morale boost in a disappointing season/ It is in the best interest of the future for this franchise to have the first pick of the draft, but losing is hard on everyone involved. Simply put, It is difficult to create a winning culture when you are not winning. You have nothing but words to sell your players. That only goes so far. With a win, Taylor now has something tangible to build on.
Taylor should be applauded for his team not quitting on him. The Bengals took a long time to win, but six of their first 11 losses were by one possession. Taylor clearly has not lost the locker room. You cannot underestimate the importance of that.
Frustration has been easy to see. However, nothing cures frustration better than a win. Building a team takes time and patience. Regardless, this organization needed something positive to happen.
Winning in such a fashion also shows that even with many holes on this roster, there are pieces to build around. You cannot win as decisively Cincinnati did Sunday without at least some viable talent on your roster. This should show the front office that a strong offseason could help turn things around sooner rather than later. A couple quality free agent signings, a solid draft, and you could see significant improvement, even by next season.
Defensive coordinator Lou Anarumo has taken a lot of heat. To his credit, the Cincinnati defense has shown major improvement over the last three weeks, allowing just 13 points per game. The Bengals may still have the last ranked defensive unit in the league thanks to some dreadful performances early in the season, but something is starting to click
Installing a new scheme can take a while. Anarumo is slowly trying to move away from the base 4-3 the Bengals employed throughout the Marvin Lewis tenure. Perhaps Anarumo has bought himself some time to build continuity and understanding of what he wants to build in this defense.
Sunday's performance also showed a much more confident play caller in Zac Taylor. Beyond just running a football team, the first year head coach is also calling the offense which has resulted in some questionable moments this season. Taylor showed on Sunday that even he needs to find a rhythm. That being said, once that rhythm is found, it is possible the offense could flourish with time as well as personnel upgrades. Sunday showed that possibility.
Hope can be a dangerous thing. It is also true that nothing can flourish without hope. Sunday's win gives hope to players, coaches and fans alike. The icing on the cake is it didn't affect draft status.