Cincinnati Bengals: 2020 NFL Draft may be most critical in franchise history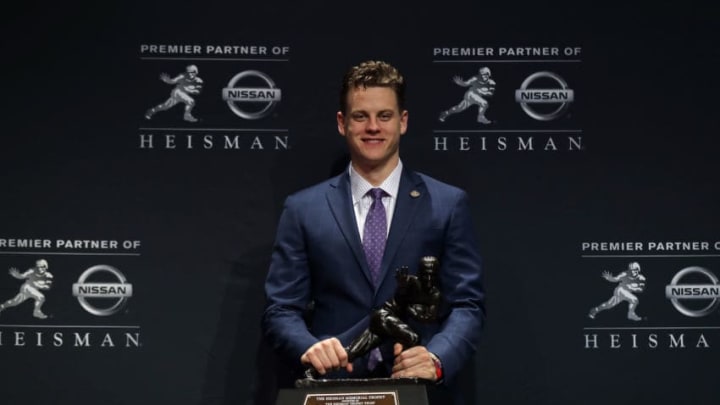 NEW YORK, NY - DECEMBER 14: Quarterback Joe Burrow of the LSU Tigers winner of the 85th annual Heisman Memorial Trophy poses for photos on December 14, 2019 at the Marriott Marquis in New York City. (Photo by Adam Hunger/Getty Images) /
The only positive for the Cincinnati Bengals this season was securing the first overall pick in the 2020 NFL Draft. To make sure it doesn't happen again any time soon, selecting the right player leaves little to no room for error.
It seems like an absolute lock, a slam-dunk, a fait accompli. LSU quarterback Joe Burrow may already be getting communications from local realtors, but to make an assumption before New Year's Day might be a mistake. I'm not saying drafting the LSU product isn't smart football, it is, but the Cincinnati Bengals are at a critical crossroads where one mistake in the upcoming draft could send them to NFL purgatory for a very long time.
The Bengals need to get this right. The NFL Draft is littered with names of first-round busts that should serve as a friendly reminder that an errant decision can set an organization back a decade, maybe more. Oakland, Detroit, San Diego/Los Angeles, Cleveland, and your hometown Bengals have all swung for the fences and missed. Just take a look at these draft day beauties.
JaMarcus Russell.
Ryan Leaf.
Akili Smith.
Tim Couch.
Charles Rogers.
All locks, one and all.
All colossal failures that sent those respective organizations back to square one.
Now, with a potential franchise quarterback waiting to head back to Ohio, Burrow seems like a Christmas present sent from the NFL gods. Then again, so does Chase Young, the other "lock" you don't want to forget waiting on a draft board near you.
Don't misunderstand, drafting a "franchise quarterback" can be hit and miss. By the time the NFL Combine wraps-up, it is completely logical a different player becomes the "can't miss" prospect?
The Bengals can't afford to miss in this draft. If it does, there is no telling where this franchise is anywhere from three to five years from now. If Burrow ends up being the guy who guides Cincinnati to more than a flirtatious relationship with the playoffs, then it's a success. If it's Young, same deal. Ultimately, the Bengals need this draft so that they aren't back on the clock one year from today.