The Cincinnati Bengals wrap up a miserable season with a 33-23 win over Cleveland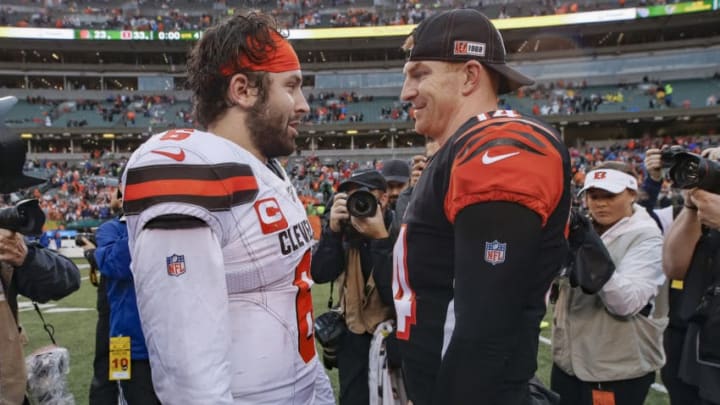 CINCINNATI, OH - DECEMBER 29: Baker Mayfield #6 of the Cleveland Browns and Andy Dalton #14 of the Cincinnati Bengals speak following the game at Paul Brown Stadium on December 29, 2019 in Cincinnati, Ohio. (Photo by Michael Hickey/Getty Images) /
The Cincinnati Bengals wrap up the 2019 NFL season with a 33-23 win over the Cleveland Browns.
It wasn't pretty or poetic. It was, when all is said and done, the second win in a season where the biggest accomplishment for the Cincinnati Bengals was earning the first overall pick in the 2020 NFL Draft.
For quarterback Andy Dalton, it was a solid sendoff to wherever he lands next season. While it's likely not in Cincinnati, he will be under center in another city, as the Bengals are now in the prime position to draft a would-be franchise quarterback. Or, perhaps, a once in a generation edge rusher. Either way, it's looking like a new chapter for NFL football in the Queen City.
Week 17 was a showdown between the two Ohio teams. The Cleveland Browns, who offered football fans a birds-eye view of an implosion in real-time, rolled into Cincinnati with a ton of talent and little else. Quarterback Baker Mayfield offered his now typical uneven performance. He would finish his day 12 of 27 for 279 yards, three touchdowns, and three interceptions. It's now fair to say the promise of 2018 has completely evaporated for Mayfield who could be under a new regime come next season.
For the Bengals, the star of the day was running back Joe Mixon. Mixon was impressive in Week 17, rushing for 162 yards on 26 carries and scoring two touchdowns. In a 2-14 season, Mixon was a bright spot in an otherwise dismal kind of season. As for Dalton, it was workmanlike. Dalton would complete 16 passes on 28 attempts for 190 yards. He also had one touchdown and one interception to wrap up his day in Cincinnati.
Up next for the Bengals is the debate sure to rage leading up to the draft. Cincinnati is in desperate need of a reset and the early bet is that LSU quarterback Joe Burrow is the one who gets his name called first when the 2020 draft kicks off late next April.