The Cleveland Browns and Cincinnati Bengals are on two different trajectories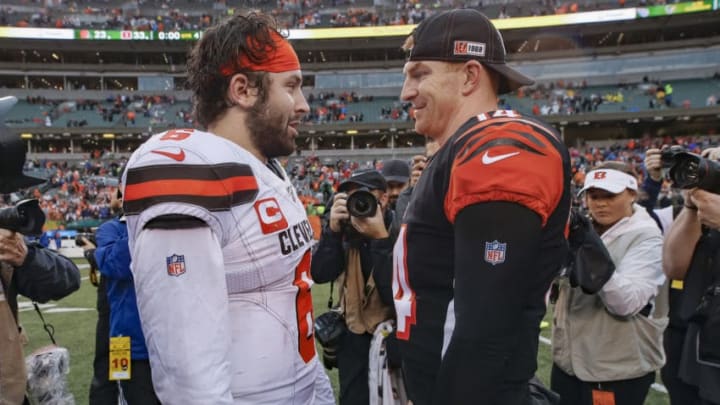 CINCINNATI, OH - DECEMBER 29: Baker Mayfield #6 of the Cleveland Browns and Andy Dalton #14 of the Cincinnati Bengals speak following the game at Paul Brown Stadium on December 29, 2019 in Cincinnati, Ohio. (Photo by Michael Hickey/Getty Images) /
The Cincinnati Bengals may have finished at 2-14, but compared to what is happening in Cleveland, optimism resides with Zac Taylor and his team.
Without question, the hot mess in the NFL continues to be the Cleveland Browns. After losing to the Cincinnati Bengals in Week 17, they promptly fired Freddie Kitchens, and on Tuesday Jettisoned General Manager John Dorsey.
Hey, you can say what you want about the 2-14 Bengals, but at least they are not the raging dumpster fire that Cleveland is. In fact, for a team that finished 6-10 and 3-3 in the AFC North, is considerably more talented top to bottom than the Bengals, fortunes in both NFL cities seem dramatically different.
The Bengals will have an opportunity to hit the reset button come draft day. Additionally, maybe a tag and trade kind of deal for A.J. Green in April is best for an organization that needs to restock and retool. The bottom line is the hope in Cincinnati is palpable. Fans are excited about the next chapter, the NFL Draft, and the prospect for change that brings. In Cleveland, it's about their Titanic of an organization avoiding the next iceberg.
Baker Mayfield needs to heed this wake-up call. His efforts in 2019 led to the dismissal of his head coach and his General Manager. Mayfield, for all the talent and potential he has, is the laughing stock of sports media. He is now the face of a franchise teetering on the brink of slipping behind a Bengals organization that will have a ton of promise come OTA's.
Week 17 was an indication that despite only winning the top overall draft pick, hope genuinely springs eternal in Cincinnati. If it's Burrow who the Bengals select, Zac Taylor has the unique opportunity to turn around a franchise that has been a classic underachiever. Meanwhile in Cleveland, the Browns are literally back to square one.
The Browns were a fun story in August of 2019. In December they are where every team dreads being. In Cleveland, it's a familiar spot Browns fans are used to.