6 reasons the Cincinnati Bengals must take Joe Burrow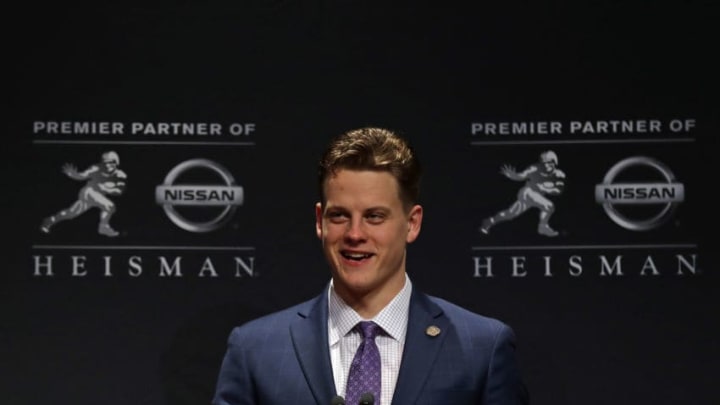 NEW YORK, NY - DECEMBER 14: Quarterback Joe Burrow of the LSU Tigers winner of the 85th annual Heisman Memorial Trophy speaks on December 14, 2019 at the Marriott Marquis in New York City. (Photo by Adam Hunger/Getty Images) /
It seems like an absolute slam-dunk for the Cincinnati Bengals, but for those who are still looking for reasons, here are a few more to consider.
After Monday night Joe Burrow has me and many other Cincinnati Bengals fan's more excited than a month of Christmas'. As Cincinnati holds the number 1 overall pick, they hold the key to locking Burrow up come draft time. Below I look at 5 reasons why the Bengals should NOT pursue any other option.
Burrow is not just any other QB
Burrow's 463 passing yards and 6 total TDs against one of college football's best defences was a true masterclass on Monday night. Burrow has had one of the greatest statistical seasons for a college quarterback and that cannot be diminished. He has the ability with his legs, looks a natural leader and is from the state of Ohio. And before it's said, Burrow's arm strength is more than adequate.
QB is the most important position in sports
What other position has the opportunity to shape a play on every snap? Chase Young is a great player, but 30 sacks would not affect the team in the same way that a generational QB would.
The Bengals are not going to win the Super Bowl with Dalton in 2020
This year showed that with Andy Dalton healthy the Bengals were never in the same stratosphere of being a contender. Taylor even tried his hand with Ryan Finley! A rookie QB would allow for the Bengals to revamp the talent across the roster so that playing in the big game could be a possibility in the future as opposed to the mediocre ceiling that Dalton has proven to provide.
Young skill position talent surrounds next years' signal-caller
One problem that rookie QBs often suffer from is talent around them. John Ross and Tyler Boyd, the latter in particular, would provide Burrow with above-average pass catchers. Bill Belichick recently called Joe Mixon the best running back in the league. With progression in the offensive line provided by 1st round pick Jonah Williams, Burrow will have talent around him that can support him.
There is no guarantee that the Bengals would be bad enough to land Lawrence next year
It is very difficult to be bad enough to hold the number 1 pick in the NFL. The Cincinnati Bengals may have only managed it this year due to the midseason presence of noodle armed backup Ryan Finley. There is a very slim chance that the Bengals will be close to this position next year as Zac Taylor becomes more comfortable and confident in Year 2.
Burrow can put the Bengals in the forefront of national attention
Okay, maybe this point may be talking directly to Mike Brown and it may be corny but Joey Cool oozes swag. The man is currently being celebrated nationwide and this will only grow during the offseason. Everybody across the country will be invested in Burrow's progression which will lead to more prime time games, more attention and more money.