Ranking the Top Ten Bengals Draft Picks of the 2010s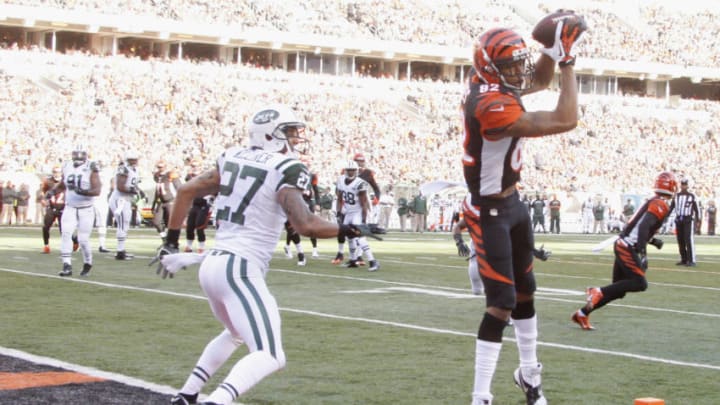 CINCINNATI, OH - OCTOBER 27: Marvin Jones #82 of the Cincinnati Bengals hauls in the touchdown pass during the game against the New York Jets at Paul Brown Stadium on October 27, 2013 in Cincinnati, Ohio. The Bengals defeated the Jets 49-9. (Photo by John Grieshop/Getty Images) /
The Cincinnati Bengals had a relatively successful decade in the 2010s. Below, we analyze the top ten draft picks across that time span.
10. Auden Tate
The Bengals selected Auden Tate with the 253rd overall pick in the 2018 NFL Draft. While Tate would not be considered one of the top ten players of the decade, his selection was one of the team's best value picks of the past ten years. A seventh-round pick who never reached 550 yards receiving in his college career has developed into a solid offensive weapon for the Bengals. Tate frequented highlight reels in the 2020 season, making ridiculous catches week after week.
9. Sam Hubbard
The ninth-best pick of the Bengals' decade is another player from the 2018 class. The front office took Sam Hubbard from the Ohio State Buckeyes in the third round with the 77th overall pick in the NFL Draft.
In his first two years as a pro, Hubbard has become a stud for the Bengals and looks to be a mainstay on the defensive line for years to come. The best part about the pick is that despite only being a third-round pick, Hubbard has had more sacks than any other defensive lineman taken in the 2018 draft.
8. Joe Mixon
Cincinnati's eighth-best pick of the decade was Joe Mixon, a running back from Oklahoma. They selected him with the 48th overall pick of the 2017 Draft. At the time of the selection, the pick was considered controversial.
Since then, Mixon has been fantastic on the field. Developing into one of the league's premier running backs over the past two years, he led the AFC in rushing yards in the 2018 season. He has had 1,400+ all-purpose yards in each of the past two seasons.