Ranking the Top Ten Bengals Draft Picks of the 2010s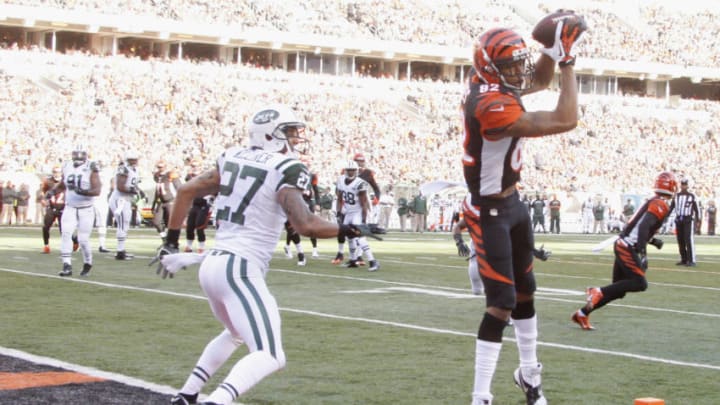 CINCINNATI, OH - OCTOBER 27: Marvin Jones #82 of the Cincinnati Bengals hauls in the touchdown pass during the game against the New York Jets at Paul Brown Stadium on October 27, 2013 in Cincinnati, Ohio. The Bengals defeated the Jets 49-9. (Photo by John Grieshop/Getty Images) /
CINCINNATI, OH – OCTOBER 27: Marvin Jones #82 of the Cincinnati Bengals hauls in the touchdown pass during the game against the New York Jets at Paul Brown Stadium on October 27, 2013 in Cincinnati, Ohio. The Bengals defeated the Jets 49-9. (Photo by John Grieshop/Getty Images) /
7. Kevin Zeitler
This one will hurt for many Bengals fans to see. The Bengals took Kevin Zeitler, an offensive lineman from Wisconsin, with their second first-round pick of the 2012 Draft. In his time with the Bengals, he was one of the top guards in the league and a key piece of an elite offensive line in Cincinnati.
Unfortunately, the Bengals did not value the guard position and let him walk in free agency, where he continued on to be a to top offensive lineman with both the Browns and the Giants. While it's regrettable that he was not re-signed by the Bengals, that doesn't take away from the fact that the front office drafted a great player in Zeitler.
6. Tyler Boyd
When the Bengals selected Tyler Boyd with the 55th overall pick of the 2016 Draft, they had a huge need at wide receiver. Marvin Jones and Mohamed Sanu had left in free agency and the once elite receiving group had become a glaring need. The Bengals were not disappointed with the selection of Boyd.
After an impressive rookie season, Boyd struggled in his second year. His career changed course after a viral game-winning touchdown to knock the Ravens out of the playoffs at the end of his sophomore year, which made things click for the former Pitt wideout. In the past two seasons, Boyd has developed into one of (if not the) best slot receivers in the league and has led the Bengals in receiving yards both seasons. He signed a long-term contract with the Bengals last offseason and should be a focal point on offense for years to come.
5. Marvin Jones Jr.
The fifth best Bengals' pick of the 2010s is another wide receiver. Marvin Jones Jr. was the Bengals number two receiver during their AFC North champion seasons in both 2013 and 2015. His most memorable game with the Bengals was a four-touchdown performance against the Jets in 2013.
After leaving Cincinnati in the 2016 offseason, Jones has had mixed success with the Detroit Lions, including a 1,101 yard and 9 TD performance in the 2017 season. The Bengals took Jones with a fifth-round pick in the 2012 NFL Draft and found a diamond in the rough, showing that they can find great value on day three.