Bengals: Pump the Breaks on the Joe Burrow Comparisons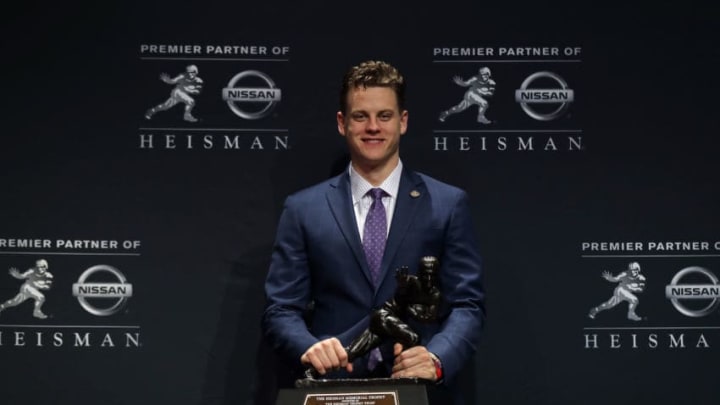 NEW YORK, NY - DECEMBER 14: Quarterback Joe Burrow of the LSU Tigers winner of the 85th annual Heisman Memorial Trophy poses for photos on December 14, 2019 at the Marriott Marquis in New York City. (Photo by Adam Hunger/Getty Images) /
Heisman winner Joe Burrow has been compared to legendary athletes, even to some outside of football. Those comparisons could be daunting for Burrow and create unrealistic early expectations.
The Cincinnati Bengals are eight days away from selecting Joe Burrow with the first overall pick of the 2020 NFL Draft. The LSU standout is set to take the reigns of a franchise desperately in need of revitalized hope. Coming off quite possibly the greatest season ever had by a college football player, he has drawn many comparisons to legendary athletes across the sports world.
By November of his Heisman season, Burrow was being compared to Tom Brady. After LSU's dominating performance in the 2020 NCAA Championship, his name was put in the same sentence as Joe Montana. Earlier this week, former Bengals' quarterback Boomer Esiason intertwined sports worlds as he compared Burrow to another Ohio hero, Lebron James.
""I equate him to when LeBron James came out of high school his senior year and the Cavaliers had the top pick… He grew up in the shadow of Cleveland and brought them the championship.""
Finally, Hall-of-Fame executive Gil Brandt dropped his top 150-player big board for the upcoming draft. It's no surprise that Burrow tops his list, but what he said about him could have Bengals' fans jumping for joy.
""Burrow reminds you of Peyton Manning. Burrow is faster than Manning, but his arm strength is equal — it's good but not great.""
Following the comparisons to Tom Brady in March, Burrow fired back at media members for creating unnecessary pressure.
""Please don't compare me to the best player of all time. Let me do my own thing. Don't do that to me. Please.""
While Bengals' fans across the world salivate as each comparison files in, those comparisons could be creating unprecedented pressure for Joe Burrow and the Bengals. Even though he is coming off of the greatest college football season of all time, he's is not invincible. He has not even taken a snap in the NFL and he is being compared almost exclusively to Hall-of-Famers and some of the greatest of all time. Bengals' fans should proceed with cautious hope leading into the 2020 NFL season.
Colin Cowherd jumped in on the conversation by saying that Burrow doesn't look like a physical specimen like the legends he is being compared to. However, to say that all these legends are "physical specimens" is simply not true.
Has he ever seen Tom Brady's combine? Has he seen Peyton Manning run the 40-yard dash? He also mentions Manning's height as his legendary trait but he's less than two inches taller than Burrow. Cowherd has pestered the Bengals' and pleaded for Burrow to take his talents elsewhere, so these comments should come as no surprise.
Between Cowherd's comments and Boomer Esiason's comparisons, there is a middle ground of hope and expectations that Bengals' and sports fans should have for the expected number one pick.
Yes, Joe Burrow is a fantastic prospect and could do amazing things for the Bengals' franchise, but it is unfair and unnecessary to have these great expectations from the get-go. When you're in a position to draft the best quarterback prospect since Andrew Luck, you're allowed to and definitely should have hope, but remember the Bengals are selecting first overall for a reason.