Joe Burrow's career could be devastated by a season cancellation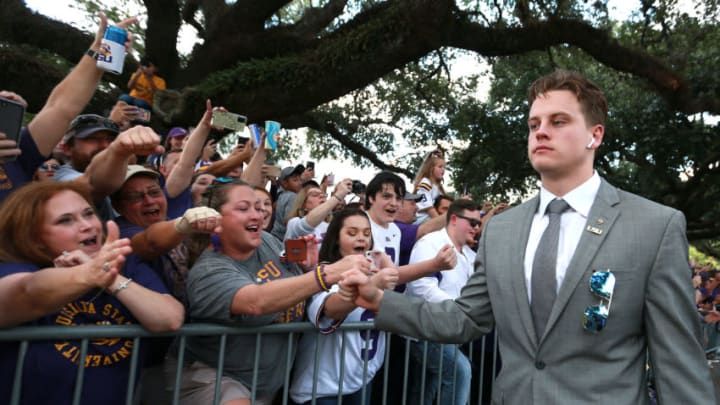 Joe Burrow (Photo by Sean Gardner/Getty Images) /
If the COVID-19 pandemic leads to the NFL being canceled in 2020, the impact on Joe Burrow's career with the Bengals could be disastrous.
The NFL is working on a plan to play football in 2020 amidst the current COVID-19 pandemic. As of right now, things look on course for the league to be active in the fall, but the season could be canceled if anything goes wrong. This should be concerning for fans of the Cincinnati Bengals, because their rookie quarterback Joe Burrow's career may just hang in the balance.
Burrow is already 23 years old and will turn 24 before the end of the 2020 season. That's already older than you'd want a franchise quarterback to be in his first year, but it gets even worse if his rookie year is pushed to 2021. If Burrow's rookie year is moved to 2021 due to the pandemic, he would turn 25 at the end of his rookie year. This is very concerning for his chances at a successful career in the NFL.
Trends in the NFL show that quarterbacks of higher ages as rookies often have less successful careers, and the logic makes sense. The later a quarterback gets to the NFL, the less time they have to adapt to the new league and develop. If a quarterback's rookie season is at a younger age, they have ample opportunity to evolve. With the quarterback position being so important and difficult, that extra time to grow is crucial. Burrow is already old for a rookie in 2020, the effects of waiting another year could be extremely harmful.
Another point that must be made is that the cancellation of football in 2020 would put a halt to Burrow's momentum. The Heisman-winner had what many consider to be the greatest season in college football history, throwing for 5,671 yards and 60 touchdowns. Burrow is on a roll right now, to make him wait a year to play could slow him down. Stopping Burrow's momentum and making him rusty for a rookie season in 2021 is an idea that the Bengals would rather not face.
In the end, the COVID-19 pandemic is out of Burrow and the Bengals' control. The health and wellbeing of the players and coaches are much more important than the football implications it could have on said players and coaches. That being said, due to having a higher rookie age than most successful quarterbacks and the prospect of having his momentum brought to a halt, Joe Burrow's career could be ravaged by cancellation in 2020. Bengals fans should cross their fingers that they don't have to worry about that.