Bengals: Logan Wilson is poised for a breakout season in 2021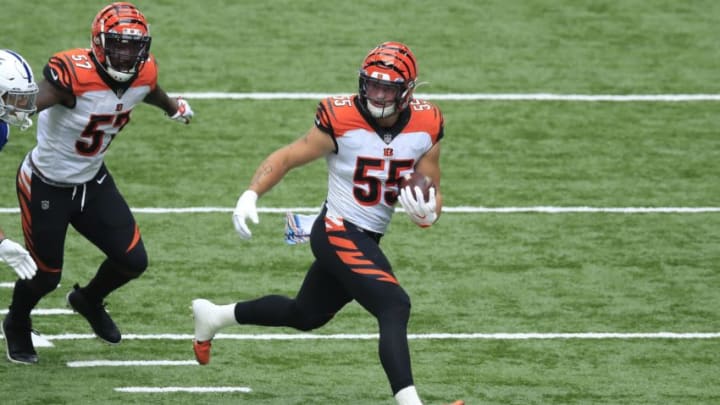 Logan Wilson, Cincinnati Bengals (Photo by Andy Lyons/Getty Images) /
The Cincinnati Bengals' linebacker units haven't been anything to write home about in recent years and that still appears to be the case heading into 2021. Hopefully, the Bengals outperform their projection by PFF where they put Cincinnati linebackers second-to-last on their rankings.
A big part of the Bengals linebackers taking a step in the right direction in 2021 is if second-year man Logan Wilson improves mightily from his rookie campaign. Wilson, a third-round pick out of Wyoming last year, appeared in 12 games as a rookie and started two of them. He totaled 33 tackles (four for loss), three defended passes, two interceptions, two quarterback hits, and one sack during that time.
There was certainly glimpses of potential from Wilson during his rookie season and that's why he was dubbed as the Bengals' most under-the-radar player by Tyler Sullivan of CBS Sports.
"With linebacker Josh Bynes no longer on the Bengals roster, that does open the door for linebacker Logan Wilson to take a larger role within the defense. He was starting to find a groove towards the end of last season, but an injury in Week 14 sidelined him for the rest of the year. So long as he stays healthy, there's a lot to like about the Wilson heading into 2021, where he could develop into an every down linebacker."
The Bengals should expect big things from Logan Wilson in 2021.
As Sullivan mentioned, Wilson was injured late in the year and that put the brakes on what looked to be a promising rookie season. He'll also have more opportunities to make plays in 2021 because Bynes isn't with the team anymore, opening things up for Wilson to make more of a splash.
Stripe Hype's own Glenn Adams spoke highly of Wilson when discussing the poor PFF ranking. He  said:
"While PFF might not have any Bengals in their top 32 entering the 2021 season, there are not too many young linebackers better than Logan Wilson."
This is right on the money.
Good young linebackers are hard to find and the Bengals look to have one on their roster in Wilson. Staying healthy is obviously key but considering the production the team saw out of him last year, there's definitely a reason for optimism that Wilson can have a breakout season in year No. 2.
The Bengals need their linebackers to bring it if they're going to compete in the brutal AFC North and Wilson is expected to help lead the charge in that department. If he can make an impact against some of the top-notch run games in the division, Wilson will go from relative unknown to a much bigger name in the NFL.