Cincinnati Bengals listed as potential suitors for Jordan Hicks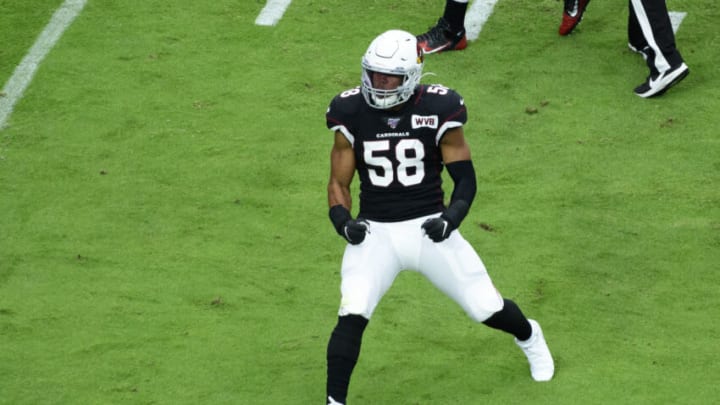 Jordan Hicks (Photo by Jennifer Stewart/Getty Images) /
Linebacker is a weakness for the Cincinnati Bengals so it makes perfect sense as to why they'd be listed as a potential destination for Jordan Hicks of the Cardinals. Hicks might be on the trade block and if the Cardinals can find a trade partner for him, the Bengals would be a good one, according to Kristopher Knox of Bleacher Report.
Knox offered this analysis:
"With Collins and Isaiah Simmons as the future at linebacker, Arizona apparently views Hicks as expendable. However, the veteran linebacker—who had 78 tackles, 11 tackles for loss and an interception last year—could be a valuable addition to any linebacker-needy team.~~~The Cincinnati Bengals, who ranked 19th against the pass and 29th against the run last season, could also desperately use a veteran linebacker as they look to continue their rebuild."
I really couldn't have said it better myself. The Bengals were not good when it came to stopping the run last year and surrendered the fourth-most rushing yards yet didn't really do much to improve the linebacker position.
Jordan Hicks is an ideal trade candidate for the Cincinnati Bengals.
I discussed the possibility of trading for Hicks a few weeks ago and said:
"Hicks isn't going to come in and be the star of the team but he'd be depth at a position that desperately needs it. He's not a sack artist either, but his 118 tackles last year are definitely something that stands out on his stat sheet.At this point, if the Bengals did muster up a deal for Hicks, they'd have him under contract for one year and could see if he's worth signing to an extension. He's played in all 16 games the past two years, proving he's durable."
If the Cardinals viewed Hicks as a star, they probably wouldn't be trading him ahead of his age 29 season. The Bengals would know that adding him wouldn't fix all of their problems, but it'd certainly be a step in the right direction when it comes to upgrading the run defense.
The Bengals have two of the best running teams in their division and they need to make stopping the run more of an emphasis. Logan Wilson showed promise last year but was injured down the stretch while Germaine Pratt and Akeem Davis-Gaither left a lot to be desired.
Hicks is a proven tackler and durable, two things that the Bengals need on their defense. If they made this trade and brought him in, he might not help turn things around immediately but he's a veteran presence who could give this group a boost, even if it was a small one.
Would you want to see the Bengals trade for Jordan Hicks?