Bengals and other teams show NFL should reconsider 3-year rule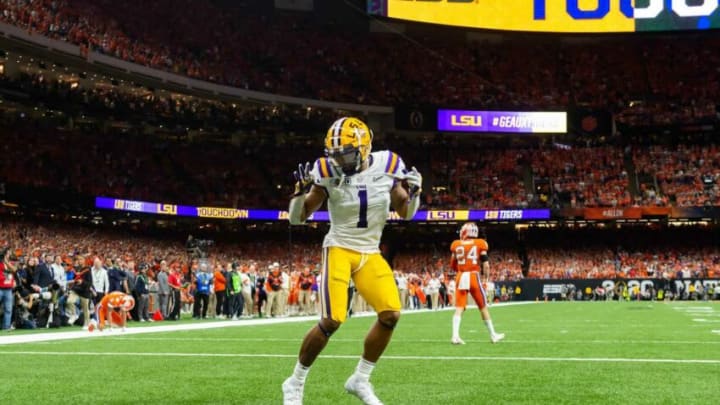 Ja'Marr Chase scores a touchdown as The LSU Tigers take on The Clemson Tigers in the 2020 College Football Playoff National Championship. Monday, Jan. 13, 2020.Cfp Monday Half1 7989 /
The landscape of the NCAA and college football is changing. The NFL should change with it. The Cincinnati Bengals are among several teams that showed with their draft that the NFL should strongly consider changing one of its most important mandates, which is the three-year rule.
NFL Football Operations defines the three-year rule as "To be eligible for the draft, players must have been out of high school for at least three years and must have used up their college eligibility before the start of the next college football season."
The Bengals drafted two players, Ja'Marr Chase and Tyler Shelvin, who were among a handful of players who opted out of the entirety of the 2020 college football season.
In the first round, there were seven players selected who opted out of the college season. This includes quarterback Trey Lance who only played in what can be described as an exhibition game. The seven first-rounders were:
Trey Lance (3rd overall)
Ja'Marr Chase (5)
Penei Sewell (7)
Micah Parsons (12)
Rashawn Slater (13)
 Caleb Farley (22)
Gregory Rousseau (30)
The young men who were drafted in the first round this year would have been selected in the first round last year. Nothing changed over a year. Not only would Chase have been selected, but he also would have been the first receiver off the board. So for that, Bengals fans rejoice.
Other college full season opt-outs selected include:
Jevon Holland (36 overall)
Levi Onwuzurike (41)
Walker Little (45)
Paulson Adebo (76)
Quinn Meinerz (98)
Jay Tufele (106)
Tyler Shelvin (122)
Kenneth Gainwell (150)
 Jaylen Twyman (199)
Tay Gowan (223)
Kary Vincent Jr. (237)
The Bengals, Detroit Lions, Denver Broncos, and Jacksonville Jaguars each decided on two opt-out players in their respective drafts. In fact, the Lions' first and second-round picks were opt-outs in offensive tackle Penei Sewell and defensive lineman Levi Onwuzurike, respectively.
Walker Little is another glaring example of why it may be time to adjust the rule. The offensive tackle from Stanford suffered a season-ending injury in the first game of the 2019 season. Then, he decided to opt-out of the 2020 campaign.
This did not prevent the Jaguars from selecting him early in the second round to help provide protection for the first overall pick, quarterback Trevor Lawrence. Missing the previous two seasons also did not stop Pro Football Focus from having a first-round grade on Little.
Seeing the success of these players will likely cause more college players to simply opt-out in the future if they feel they have done enough to show that they are worthy of being selected high, in spite of the NFL rule. Teams more than likely will continue to draft players in the future who opt out because they do not want to be the GM who missed out on a generational talent, just because.
The next time a star player has a coach leave to take a job somewhere else, instead of going through the uncertainty and inconsistency, he could just opt-out. He could also just opt not to put his health at risk knowing that he will be selected high, even if he forgoes his junior year.
The United States Supreme Court
The United States Supreme Court recently made a ruling that shook up the NCAA world in regards to compensation for student athletes. Notably, recompense for those who participate in football and basketball. This will undoubtedly lead to major changes to the NCAA model of business.
The NFL should consider making changes of its own.
Back in 2003, Ohio State running back Maurice Clarett sued the NFL for the right to enter the draft early. Unfortunately for him, he lost that case on appeal.
Also caught up in that fiasco was USC wide receiver Mike Williams. Because of the NFL's three-year rule, Williams was not only declared ineligible for the 2004 NFL draft, he was also in violation of NCAA rules and not allowed to participate in the 2004 season for the Trojans. Thus, forced to sit out the entire season.
The Supreme Court declined to hear Clarett's case.
This is something that has been discussed and litigated over the years. Now, if there were ever a time to revisit the three-year rule, it is now.
Expanded College Playoffs
College football players are playing more games than ever. On top of that, there is a proposal on the table to expand the college football playoff from four teams to 12. This means more games, added reps for NFL prospects to put on tape for NFL scouts. It also means more opportunities to risk injury and therefore, draft status.
If a sure first-round draft pick from Alabama is in his sophomore season and he has gone deep into a college football playoff two years in a row after having played two 12-game seasons in the SEC, he might choose to opt-out instead of playing a third long, arduous season. He also might choose to play another season, but at least it would be his choice.
In 2019, Joe Burrow's LSU Tigers played a 15-game schedule. That is one game shy of a full NFL schedule. At least it was one game shy until the NFL decided to go to a 17-game season in 2021 and beyond.
The Players' Option
Changing the three-year requirement would not necessarily have a vast impact on college football. First, not all players would choose to leave. Some may enjoy the college experience and choose to stay in school. Many may prioritize their education, believe it or not.
There is also the NFL Draft Advisory Board that lets players know where they stand as possible draft picks. If they do not like what is said, they could decide to return to improve their draft position. Changing the rule would not oblige the players to leave. It would just give them the option.
Also, if the college athletes are indeed able to secure additional benefits for their services, colleges will be better suited to keep players at their program.
'Wear and tear' vs 'Fresh legs'

The Bengals, unfortunately, have a propensity for having first-round picks injured, for whatever reason. If a player opts out, conceivably, he could be less prone to injury than if he were to come off of a 15-game season, combine prep, pro day workouts, private team workouts, rookie minicamp, voluntary minicamp, OTAs, etc.
For teams that are concerned about the dedication of the players, seeing how good of shape they are in during all of the pre-draft activities should assuage their concerns. On the other hand, it may be a "red flag" that could help a team from making a "mistake."
In the End
This 2021 draft shows that it is time to modify the three-year rule down to two or even one year. The uncertainty surrounding the future of the NCAA adds to the notion that perhaps now is the time to revise the soon-to-be archaic directive.
Be thankful Bengals fans that the rule was still in place this year, however. There is no way Chase would have been available in the second round last year.