Bengals: Jordan Hicks would give linebackers a nice boost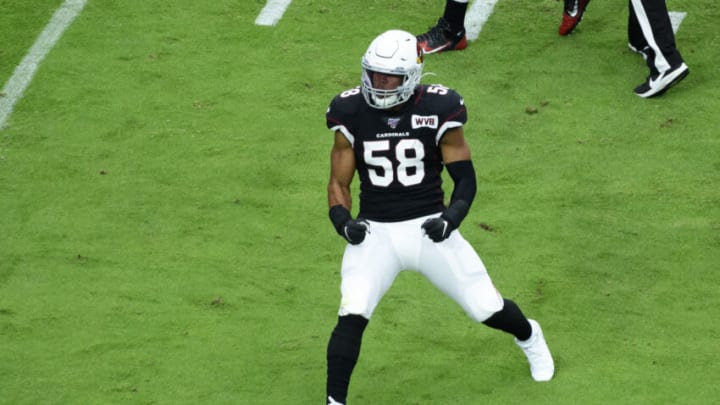 Jordan Hicks (Photo by Jennifer Stewart/Getty Images) /
Even though the Cincinnati Bengals' defense has been kicking butt and taking names through the early stages of training camp, the linebacker position is one that could most definitely use some help.
ESPN proposed a trade that makes a lot of sense for the Bengals. The trade involves sending a 2022 sixth-round pick to Arizona in exchange for linebacker Jordan Hicks, who would thrive in this defense.
Hicks, a former third-round pick out of Texas in the 2015 NFL Draft, has six years of NFL experience under his belt, which could go a long way for the Bengals' linebackers. It's a young group of guys for the most part (Jordan Evans is entering year five, making him the most experienced of the bunch).
Hicks isn't happy with the Cardinals, as they drafted his replacement in the first round and have made it clear that they're ready to move on from him.
Hicks isn't a superstar by any means but the dude is a tackling machine. He totaled over 100 tackles in each of the past two seasons and that's something Cincinnati could certainly use on defense. Their run defense needs to improve from a season ago where they allowed the fourth-most rushing yards in the league.
A trade for Jordan Hicks makes sense for Cincinnati Bengals
Sending just a sixth-round pick to the Cardinals in exchange for a player like Hicks is great value. No, he's not a household name but to give up a late draft pick for a guy who could step into the Bengals' defense and be an immediate starter would be a no-brainer of a trade.
As of now, the Bengals have Logan Wilson, Germaine Pratt, Akeem Davis-Gaither as the presumed starters. For their depth, they have Joe Bachie, Markus Bailey, Jordan Evans, and Keandre Jones waiting in the wings in case an injury occurs.
This unit could certainly use some improvement and Hicks would be the improvement this team needs at a bargain of a deal. If the Cardinals are serious about trading Hicks, the Bengals should most definitely give them a call.