Bengals: Logan Wilson could have a monster season in 2021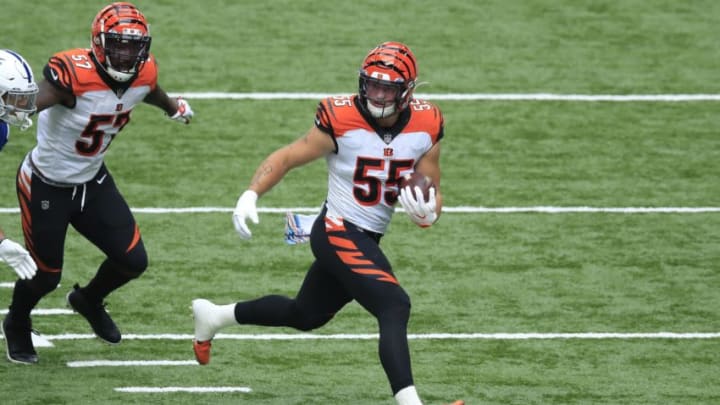 Logan Wilson, Cincinnati Bengals (Photo by Andy Lyons/Getty Images) /
The Cincinnati Bengals' linebackers have been one of the worst linebacker units in the NFL for several seasons. The unit has been attacked consistently for its poor play, and there was not a lot of hope for the unit going forward.
After drafting players like Logan Wilson, Akeem Davis-Gaither, and Germaine Pratt, however, there is young talent in Cincinnati's linebacker room once again. The group may struggle some due to inexperience, but there is room for improvement. Among the group, Wilson looks to be the anchor of the defense and will be a huge factor in improving the unit.
Last season, Wilson had a decent rookie year appearing in 12 games with 33 tackles, one sack, and two interceptions. There was a lot of hope for Wilson coming out of the draft after he was selected in the third round by Cincinnati. In the upcoming season, Wilson is on the right path to make a huge leap.
Logan Wilson is turning heads for the Cincinnati Bengals this offseason
Nothing but positive reports have surrounded Wilson this offseason. The Bengals decided to give Wilson the mic in his helmet to handle all communication with the coaching staff during games. Clearly, Cincinnati must trust Wilson's intelligence and leadership skills if he is given this huge responsibility.
Paul Dehner Jr. of The Athletic was impressed with Wilson's play after observing practice,
""He's hitting the gaps in the run game noticeably faster this year. He has been given the green dot for coach communication, and that confidence in him physically and mentally is spilling over to his playing style. He came in with the reputation as a skilled cover 'backer and that still remains, but his lines of attack and anticipation in the run game has shown up through 10 practices.""
As Dehner said, Wilson was mostly known for his coverage skills coming out of college. This combined with his improved play in the run game should mean a big upcoming season for Wilson.
Also, if Wilson is running to gaps quicker this season, this likely means Wilson is becoming a more intelligent player, and the game may have slowed down for him. This would be one obvious explanation why Wilson was given the mic this season.
Rivers McCown of ESPN formulated a top 25 list of young prospects in the NFL who could improve a lot this season. At number four on the list is Wilson. McCown goes on to explain how Wilson should be the best linebacker for the Bengals and his skills in coverage and blitzing are intriguing.
During the preseason, Wilson has looked really good. Across two games, Wilson is the second-highest-rated Cincinnati defender with a PFF grade of 88.0.
https://twitter.com/PFF_Bengals/status/1429803528898420740
In Wilson's most recent showing against the Washington Football Team, he had a very impressive performance. Wilson was the highest-rated Cincinnati defender during this game with a PFF grade of 92.7.
Wilson was flying all over the field making plays showing his versatility. On one particular play, Wilson showed his big-play capability when he forced a fumble. Wilson did have some mistakes in coverage against Washington, but overall he had a very good game.
There are many reasons why Wilson could have a breakout year in the upcoming season. He's capable of it with his coverage skills and improvement in the run game. Cincinnati's defense will lean heavily on Wilson's play this year, we will see if he's up to the challenge.