4 important Cincinnati Bengals for Week 1 vs. Vikings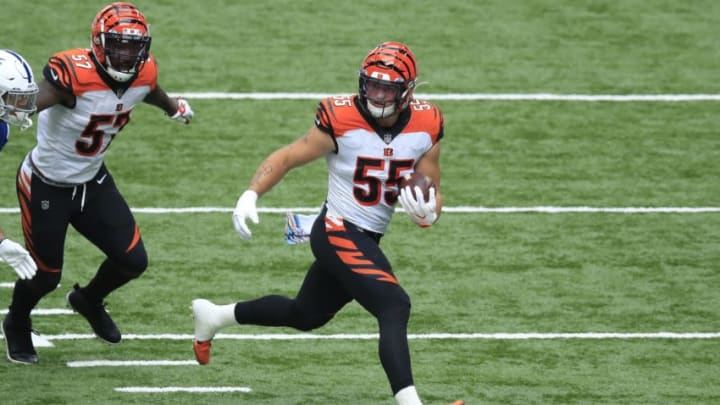 Logan Wilson, Cincinnati Bengals (Photo by Andy Lyons/Getty Images) /
Joe Burrow, Cincinnati Bengals (Photo by Dylan Buell/Getty Images) /
The Cincinnati Bengals kick off their 2021 regular season against the Minnesota Vikings this Sunday at 1:00 EST. It won't be easy but it's also a winnable game for the Bengals despite being home underdogs.
With the Vikings coming to town, there are four members of the Bengals who will be the most important players to watch during this game. Let's dive into those.
Important Cincinnati Bengals vs. Vikings – No. 4: Joe Burrow – QB
It seems obvious that in any game during the season the quarterback would be the most important player considering it is one of the hardest positions in sports, and if a team does not have a good quarterback, they will not be going anywhere during any game — or the season.
Everyone is eagerly awaiting Burrow's return to the field, exemplified by the standing ovation he received in the preseason game vs Miami.
Burrow tore his ACL and MCL last season and has been making great strides to get back onto the football field. Burrow was only out for three plays only attempting one pass intended for Ja'Marr Chase, which was dropped. It was great to see Burrow out on the field but he didn't need to be out there.
Whether he played a couple of drives or didn't play at all he'd be in the same spot for Week 1 vs. the Vikings. Much of returning from injury is being mentally prepared — Not being afraid to take a hit is vital for any player to get back into mid-season form. Prior to the Miami game, Burrow said he was ready to take hits.
This bodes well for his confidence and mental preparedness for Week 1. Burrow needs his mind fully focused on the game and not on if he is going to get re-injured. With Burrow fully focused and ready to go, he could be a game-changer. Burrow has three amazing receiver targets, a solid tight end target, and Joe Mixon in the backfield to take pressure off of Burrow and to help open up the Play Action Pass.
Burrow's mind is right, he's got the weapons, he just needs to execute. If he can, the Bengals could really pile on the points. The Vikings' defense will always be tough while defensive-minded Coach Zimmer is there but, they're not the dominant defense from a few years ago that could've propelled Kirk Cousins to the Super Bowl.