Bengals' resiliency must continue vs. Packers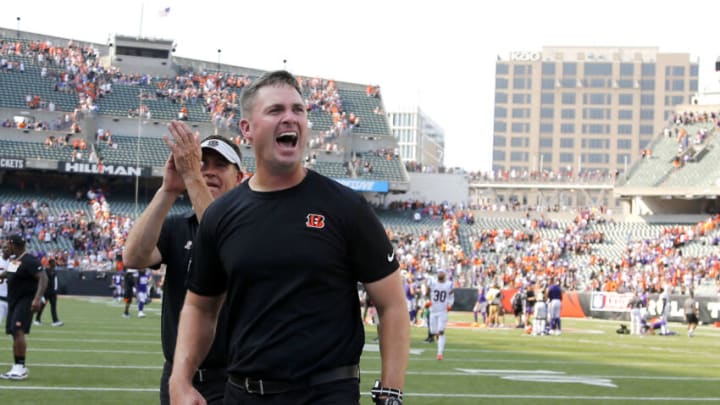 Sep 12, 2021; Cincinnati, Ohio, USA; Cincinnati Bengals head coach Zac Taylor celebrates following the overtime win against the Minnesota Vikings at Paul Brown Stadium. Mandatory Credit: Joseph Maiorana-USA TODAY Sports /
The Cincinnati Bengals are off to a somewhat surprising 3-1 start. The team's resiliency and ability to fight through tough moments and still post wins has been most encouraging.
The crown jewel in the Bengals trio of early wins is no doubt controlling the division-rival Steelers on the road from start to finish.
However, if you want to see why the Bengals might be turning a corner as a franchise, the pair of close home wins give you a clearer picture. It is not the kind of thing you can put on a stat sheet.
Even with things looking up, Zac Taylor still has moments where it's more than fair to wonder about him as a head coach. Cincinnati had a 14 point third-quarter lead against the Vikings. Taylor elected to go for it on 4th and 1 from his own 30-yard line.
The Bengals failed and the good field position sparked Minnesota to easy points and they eventually forced overtime. The turnover on downs felt very much like the "here we go again" kind of moment that had defined the Taylor era thus far.
But a clutch fumble and recovery propelled Taylor's team to a game-winning field goal to seal the opener as the overtime clock expired.
Last week against Jacksonville, a holding penalty on Quinton Spain seemed to derail the Bengals efforts to get in range for another game-winning field goal. Despite that, gaining 32 yards over the next two plays allowed Evan McPherson to send the fans home happy as regulation time ended.
The Cincinnati Bengals would not and could not have won these two games in the previous two seasons.
Whether it is a case of the team learning how to win or the roster simply being improved enough to increase the team's margin of error doesn't really matter. The result does.
That brings us to this week. Reigning MVP Aaron Rodgers brings the NFC North-leading Green Bay Packers to town. Since a bizarre season-opening loss, Green Bay has won three in a row and Rodgers has eight touchdown passes and no interceptions.
Thus, there will be moments where it feels like it just isn't Cincinnati's day on Sunday. Still, the Bengals have shown enough grit and fight in their first two home games to hang with any team. If the same grit shows up this week, they could pull off another perceived upset and perhaps get some respect on a national level.