Bengals: Cameron Dantzler is an intriguing trade candidate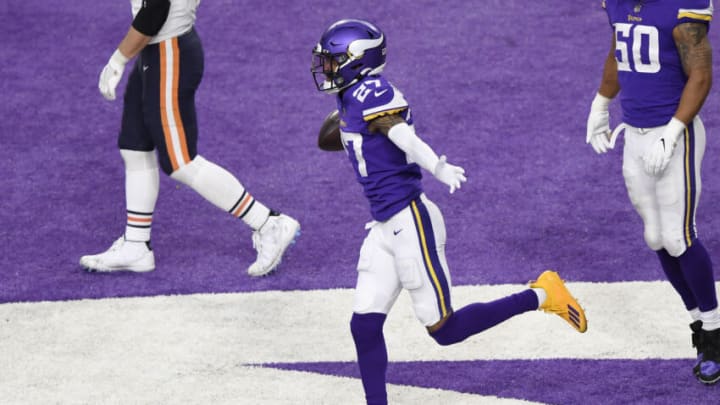 Cameron Dantzler (Photo by Hannah Foslien/Getty Images) /
The past few years haven't seen the Cincinnati Bengals very involved with adding talent before the trade deadline but rather, selling off pieces and trying to get something back in return.
While this year could end up being the same, the fact that the Bengals are 3-1 at least gives this fan base some hope moving forward. Yes, the schedule is about to get tougher and yes, the division is brutal, but Cincinnati's come this far and have nearly a perfect record to show for it.
With that in mind, the Bengals could use some help in their secondary  and that help could come in the form of Cameron Dantzler, who appears to have fallen out of favor with the Vikings.
Kristopher Knox of Bleacher Report put together a list of some trades that could still happen after Stephon Gilmore landed with Carolina. No, he didn't have Dantzler going to the Bengals — Heck, he didn't even have the Bengals trading for anyone on his list or trading anyone in general — but he did bring Dantzler up as a trade candidate.
"After starting in 10 of his 11 appearances last year, Dantzler has played only 34 percent of the defensive snaps this season. He's been strong in coverage, though, allowing an opposing passer rating of only 41.7."
It was also discussed why Dantzler isn't as loved in Minnesota anymore and that's because he isn't providing them with value on special teams. There's a quote included from Mike Zimmer on how backups have to play special teams.
Bengals should consider a trade for Cameron Dantzler
The Bengals secondary might finally be healthy this week for the first time in 2021, as Chidobe Awuzie should be returning and Trae Waynes is entering his second straight start. He missed the first 19 games after inking his contract with the organization. Throw in Jessie Bates and Vonn Bell at safety and the Bengals are set up pretty well. So, why add more?
Well, with the injuries to Awuzie, Bates, and Waynes — and the fact that injuries occur often in the league — it never hurts to have depth. The AFC North has some tough offenses and Dantzler could be a treasured addition late in the season to help slow down the likes of Lamar Jackson and Baker Mayfield.
The Vikings spent a third-round pick on Dantzler only a year ago and he was good, notching 46 total tackles, deflecting four passes, and grabbing two interceptions through 11 games (10 of those being starts). He deserves to start or at least get more playing time elsewhere and Cincinnati could be that place.