Bengals vs Steelers: Who are the experts picking in Week 12?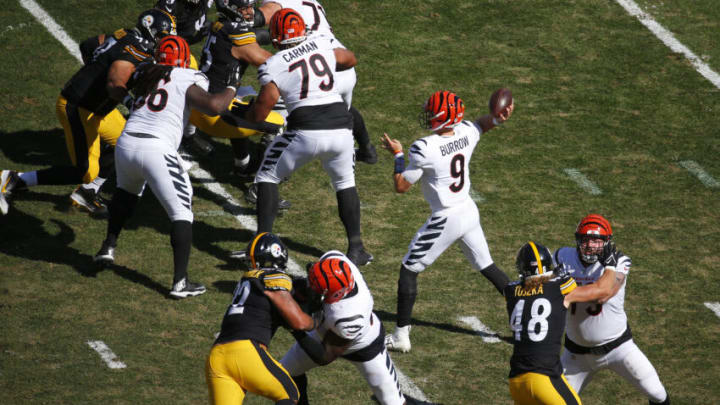 Joe Burrow, Cincinnati Bengals (Photo by Justin K. Aller/Getty Images) /
The Cincinnati Bengals-Pittsburgh Steelers game could be ugly, boring, nail-biting, demoralizing, or any number of other adjectives. The one thing it definitely will be? Important.
Anytime two AFC North teams face each other, the playoff implications are astronomical. Cincinnati won their first matchup in a surprising upset, and you can bet the Steelers are out for blood this time.
The 6-4 Bengals sit above the 5-4 Steelers, though both could end up winning or sitting dead last in the division by the end of the season.
Cincinnati snapped a two-game losing streak in Week 11 against the Raiders, but they'll have to keep the momentum going full speed ahead against their vengeful division rivals.
Here's what the experts have to say about Week 12:
Expert picks for Cincinnati Bengals vs. Pittsburgh Steelers
It's a tie, based on these four experts' predictions, anyway.
Ben Rolfe gives his reason for why he's cautiously favoring Cincinnati:
"The Bengals are the slightly better team, but strange things happen in this division. If the Bengals win, they have a huge tiebreaker over the Steelers after winning earlier in the year. However, the Steelers have not lost to the Bengals twice in one season since 2009."
He's right — strange things do tend to happen in the AFC North. Just because one team is higher than the other in the division doesn't mean anything when it comes to the AFC North, as exemplified by past results.
Bleacher Report's Sobleski offers his take on the potential X-factor of the game:
"This AFC North clash boils down to one matchup: Pittsburgh's aggressive and talent-laden defensive front seven versus Cincinnati's suspect offensive line."
Basically, if the Bengals can protect Joe Burrow, they have a chance at winning. If not, it could be over by halftime.
Another analyst not named above also has an observant take: FOX Sports' Geoff Schwartz expects the game to be low-scoring and that Burrow will be "limited" in his passing.
After all, Burrow's biggest yardage games this season have come against poor defenses, and the Steelers won't be so easily steamrolled over.
The jury's out on who will win, but this could be one of the most tantalizing games of the season.
The Bengals have their game plan, but so do the Steelers. May the best team win.