Tyler Boyd was right about the Steelers quitting against the Bengals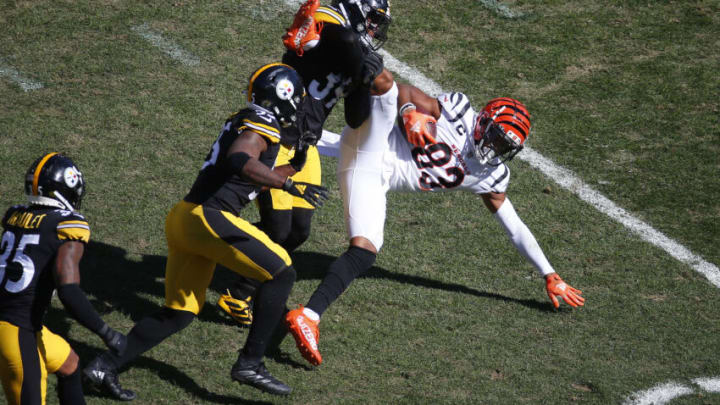 Tyler Boyd, Cincinnati Bengals (Photo by Justin K. Aller/Getty Images) /
The Cincinnati Bengals are in the midst of a 34-3 blowout against the division rival Pittsburgh Steelers. The two squared off in Week 3 and the Bengals took Pittsburgh to the woodshed in that one and have now followed it up with another butt-whooping.
In that Week 3 victory, Tyler Boyd made headlines in Cincinnati and in Pittsburgh when he accused the Steelers defense of quitting. Pittsburgh was down Alex Highsmith and T.J. Watt on the defensive side of the ball but that didn't matter to Boyd.
Leading into the week, people wondered if Boyd's comments back in September might motivate the Steelers to come out swinging this time around.
Well… We have the answer now and it did not motivate them. Heck, it appeared as though not only the defense gave up, but that the offense did as well, and in the third quarter!
Tyler Boyd was onto something about the quitting Steelers.
The Steelers, already down 34-3 in the third quarter, were facing a 3rd-and-10 and rather than try to air it out and try and make the game a little more respectable, Ben Roethlisberger threw to Najee Harris behind the line of scrimmage. This was a terrible play call no matter what but when you're down by three touchdowns late in the game, it's a really bad call.
Boyd got some flack for his comments in September but it appears he wasn't wrong about what he said. Only this time, instead of just the defense giving up and allowing Joe Mixon to run all over them all game long, the offense also hung up the cleats and decided not to give it their all.
Bengals fans aren't used to seeing their squad beat up on the Steelers and they've now done so twice this season, sweeping their divisional foes for the first time since 2009. They've won three straight games against Pittsburgh for the first time since 1990.