Bengals have one of the toughest remaining schedules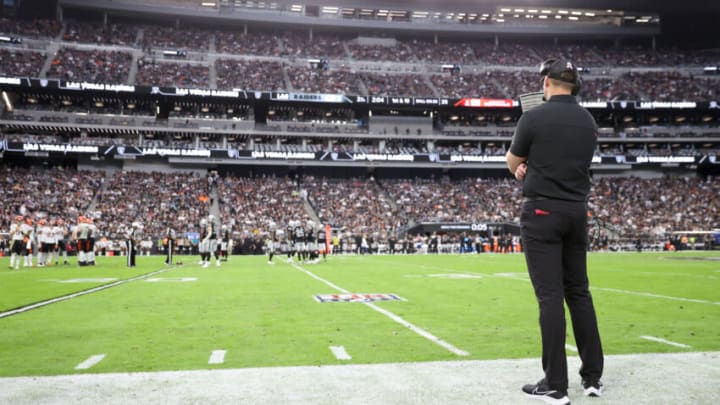 Cincinnati Bengals. (Photo by Matthew Stockman/Getty Images) /
The Cincinnati Bengals are legit, but so are their future opponents in the 2021 season.
Riding off the high of an exultant triumph over the Pittsburgh Steelers, Cincinnati may need to keep their expectations at a reasonable level. Somewhere between playoff bubble and playoff contention.
In his most recent presser, Joe Burrow emphatically stated that he had "higher aspirations" than beating the Steelers, even if Cincinnati did sweep Pittsburgh for the first time since 2009.
One can only assume those "aspirations" involve making the playoffs, but the road to the postseason will be considerably more difficult for the Bengals than other teams in their division.
Based on average DVOA of opponents, the Bengals have the fifth-toughest remaining schedule, behind the Carolina Panthers, Chicago Bears, Atlanta Falcons, and Washington Football Team.
Cincinnati will welcome the Los Angeles Chargers in Week 13, the second-ranked team in the AFC West. There's no question that Justin Herbert's side will put up a much stronger fight than Big Ben's toothless Steelers.
Cincinnati Bengals have fifth-toughest remaining schedule in 2021 season
After Week 13, the Bengals will play these teams in order: the San Francisco 49ers, the Denver Broncos, the Baltimore Ravens, the Kansas City Chiefs, and finally, the Cleveland Browns.
Including LA, all of those are .500 teams or higher — the worst-ranked team is Cleveland, who has won exactly half of their games so far.
Two are crucial division matchups, notably their Week 16 matchup against the AFC North-leading Ravens.
The team that needs no introduction is Kansas City, whose high-powered offense of Mahomes, Hill, and Kelce may be too much for Cincinnati's secondary to handle.
Cincinnati seemed to have found its stride in its last two wins over the Raiders and Steelers, but Zac Taylor's side has very little room for error in this upcoming slate of games.
Burrow doesn't have to be perfect, but he needs to clean up his game and take care of the football. Ja'Marr Chase needs to get out of his 30-yards-a-game-slump and find a way to stay productive against double teams. The Bengals' D has to return to top-ten form, and Joe Mixon…well, there's not a lot to critique there. Keep running as usual.
Given how chaotic the AFC North has been, Cincinnati has absolutely no guarantee of a playoff spot this season.
Their tough schedule makes their lofty aspirations much more difficult to achieve, but this year could be the Bengals' year. No letting up now.