Should Bengals look at C.J. Uzomah or NFL Draft to fill TE need?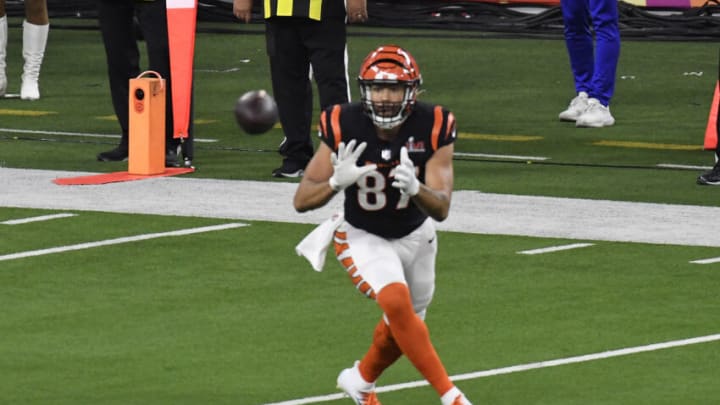 C.J. Uzomah, Cincinnati Bengals (Photo by Focus on Sport/Getty Images) /
The Cincinnati Bengals entered free agency needing to improve their tight end situation. As of now, C.J. Uzomah is a free agent, making their starter for 2022 former second-round pick, Drew Sample, who hasn't done much in his three years at the helm.
This year's free-agent tight end class looked pretty good but one by one, teams are placing the franchise tag on their tight ends. Mike Gesicki and Dalton Schultz were tagged on Tuesday morning and David Njoku was tagged by the Browns on Monday.
With three of the biggest names in this free agent class (though mostly Gesicki and Schultz) now returning to their respective teams, Uzomah might be the best option available in free agency.
Bengals fans love Uzomah and many want to see him back with the team. The problem is that Spotrac projects him to earn a three-year deal worth $24 million and earning an annual salary of $8.2 million.
Considering that Uzomah has yet to go over the 500-yard mark during his seven-year career makes that kind of money risky but the stripes might opt to bring back someone who knows the system over the alternative.
Should Bengals re-sign Uzomah or draft a tight end?
The other option for Cincinnati is to turn to the draft. They could put nearly all of their free-agent resources on upgrading the offensive line, which would mean letting Uzomah walk, and then finding their next starting tight end in the early rounds of the 2022 NFL Draft.
If this is the route the Bengals go in, there are plenty of talented options for them to consider. Trey McBride, Isaiah Likely, and Cade Otton are considered to be the three best tight end prospects according to The Draft Network and each one should be on the board when Cincinnati goes to pick in the second round.
McBride had 1,121 receiving yards in 2021 and Likely found the end zone 12 times. Otton is the third-best tight end prospect on The Draft Network's board but he reminds me too much of Sample, as he had limited receiving yards and also attended Washington. I'd rather the stripes target either McBride or Likely.
With so many talented tight ends getting franchised by their teams, the Bengals' decision as to what to do at the position is becoming more clear. They'll most likely either re-sign Uzomah or target one of the two best options in the 2022 NFL Draft.
Or hey, maybe they'll sign Rob Gronkowski. We'll have to wait and see what happens.