Bengals 2022 mock offseason: Predicting free agency and the draft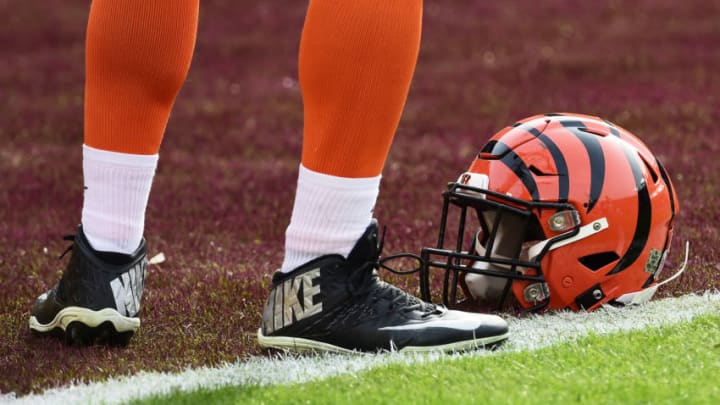 Cincinnati Bengals (Photo by Patrick McDermott/Getty Images) /
Bradley Bozeman (Photo by Peter G. Aiken/Getty Images) /
Free Agent Signings
Bradley Bozeman, center – 4 years, $38M
Over the past two seasons, the Bengals have made big splashes in the outside free-agent market. However, they have a lot of internal free agents to deal with this season, which may cause them to be less active in acquiring outsiders.
That being said, there has been a lot of talk about the Bengals' supposed interest in signing a free agent center, and those rumors seem to be legitimate. Ryan Jensen is the ideal fit, but his age and price tag will likely make the Bengals look elsewhere if they are unwilling to give $13 million+ to a center in his 30s.
Bradley Bozeman is a younger free-agent center who the Bengals appear to be interested in. I have questions about his fit, as his limited athleticism could prove to be a less-than-ideal match for Cincy's scheme, but their interest seems to be genuine so they must have faith in his ability to play well in their offense.
Bozeman likely has a big contract coming his way, but if the stripes miss out on Jensen they will probably be desperate to bring in the next best center on the market. A contract of $9.5 million a year for four years sounds like a reasonable expectation for the 27-year old.
Mark Glowinski, guard – 3 years, $18M
While the majority of the Bengals' interest appears to be focused on bringing in a center, there has also been talk of them looking to acquire a guard. A player like Laken Tomlinson would be an ideal fit for the Bengals' offense, but the Cincinnati front office has never placed much value in the guard position and there's no reason to think they do now, so the higher-end of the free-agent group seems unattainable.
Mark Glowinski of the Indianapolis Colts is a solid but unremarkable guard. He's good enough for the Bengals to feel comfortable inserting into the starting lineup, but he's not going to move the needle for the offense in any significant way.
However, between Glowinski, Quinton Spain, and Jackson Carman, Cincinnati can feel confident that they will have two starting guards who can perform at a sufficient level.
Colt McCoy, quarterback – 1 year, $1.25M
The Bengals brought backup quarterback Brandon Allen back for a second year in 2021. However, his performance against the Cleveland Browns in Week 18 showed that if Burrow goes down for a game or two, Allen cannot be trusted with a team aspiring to make the playoffs.
Colt McCoy is one of the better veteran backups in the league and could want to join a team with Super Bowl aspirations as he approaches the final years of his career.