Cincinnati Bengals 2022 first-round mock draft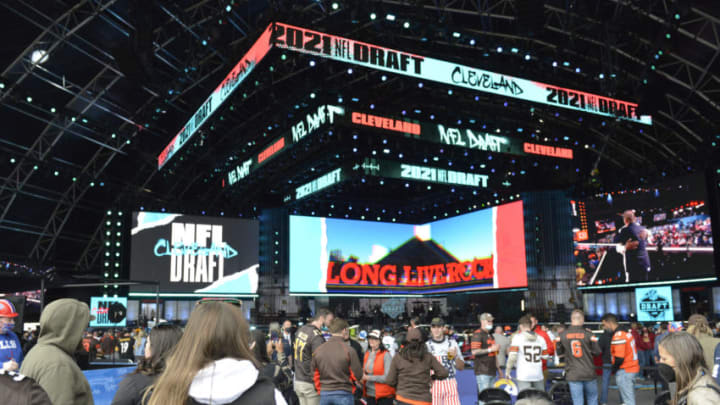 CLEVELAND, OHIO - MAY 01: Fans waiting for Machine Gun Kelly to perform onstage after the final round of the 2021 NFL Draft at the Great Lakes Science Center on May 01, 2021 in Cleveland, Ohio. (Photo by Duane Prokop/Getty Images) /
Jordan Davis (Photo by Kevin C. Cox/Getty Images) /
Chiefs GM: Leigh
With wide receivers flying off the board in ridiculous fashion, the Chiefs opt to go for a defensive stud who slid to the end of the first round in Jordan Davis. Rather than following other teams and reaching on a wideout, the Chiefs added a solid player to their defense, which needs a lot of help this offseason.
Reaction: Great pick if he falls that far. The Chiefs need to begin to restock their defensive line. Davis would fill that role for half a decade, minimum. – Rob
Chiefs GM: Leigh
With their second straight pick, the Chiefs once again address defense, grabbing Purdue's George Karlaftis to help fine-tune their struggling pass-rush. He'll be put right to work in Kansas City.
Reaction: Taking two defensive linemen back-to-back is sending a message that the Chiefs want to get stronger and faster up front to challenge the young QBs in the AFC. Good move to get quality late in the first round. – Alex 
Bengals GM: Leigh
Well, Bengals fans, it happened; Tyler Linderbaum fell to the end of the first round after it never seemed as though this would be a possibility. Adding Linderbaum allows the Bengals to slide him in at center immediately while moving Ted Karras to left guard, giving the o-line four brand new faces.
Reaction: Often mocked to the Bengals, but if you believe the beat writers the team doesn't love him. He is a bit undersized and could struggle with the traditionally massive nose tackles of the AFC North. A defensive back, or defensive tackle (if one falls) are more likely picks. 
Lions GM: Bennett
While quarterback is tempting here, the Lions will opt to take a potential star on the defensive line. After taking Hamilton at #2, the Lions get lucky with Jermaine Johnson falling into their laps here. Johnson and Hamilton both have the ability to be defensive cornerstones for this team moving forward.
Reaction: The Lions close out the first round with an addition on defense. Maybe it Malik Willis or Kenny Pickett were still on the board, the Lions would go with a QB but no one can blame them for bulking up on defense and Johnson should give them a nice weapon. – Leigh
That wraps up our staff first-round mock! For those who lost count, a whopping EIGHT receivers went in this mock and while several of them were reaches, that's who the staff opted to go with. It also allowed some big names to fall, as teams like the Saints, Bucs, and Chiefs were able to benefit from players dropping down the board.
What do you think of this mock? Any picks you really disagreed with?