5 Bengals UDFAs who could make a splash this summer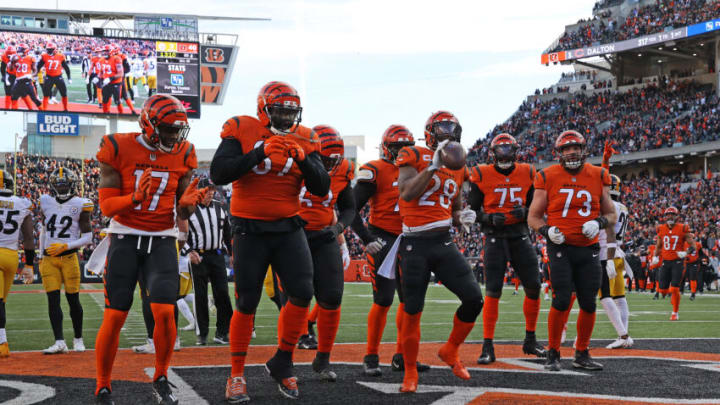 Joe Mixon, Cincinnati Bengals (Photo by Dylan Buell/Getty Images) /
Kwamie Lassiter II -Mandatory Credit: Jaylynn Nash-USA TODAY Sports /
The Cincinnati Bengals are set at several positions, making it even more difficult for undrafted rookie free agents to make the roster. In addition, 2022 marks the second year that the NFL will play three preseason games instead of four. Thus, reducing game time opportunities to make their mark.
However, the undrafted rookie free agents should not be counted out. Look for a few of them to make a splash for the Bengals this offseason. Here are five.
Kwamie Lassiter II, WR (Kansas)
Kwamie Lassiter is going to surprise some people this summer. He is a dynamic receiver who played primarily on the outside but showed he can also operate over the middle.
He is a sure-handed wideout who plays with confidence. Coaches and fans will love him for what he provides in the pass and the run games. Lassiter is a great downfield blocker who seemed to rejoice because his block sprung running backs and quarterbacks on their way to significant gains in the ground attack.
Furthermore, count on Lassiter to be involved in the mix as a punt returner. Last season averaged 13.5 yards per return. Perhaps he will be asked to contribute as a kick returner as well.
Lassiter finished his Jayhawks career with 148 catches, 1,550 yards, and seven touchdowns.
He will be in a roster battle for the sixth or seventh receiver spot. If given the opportunity in the preseason, Lassiter is sure to impress.