5 Bengals UDFAs who could make a splash this summer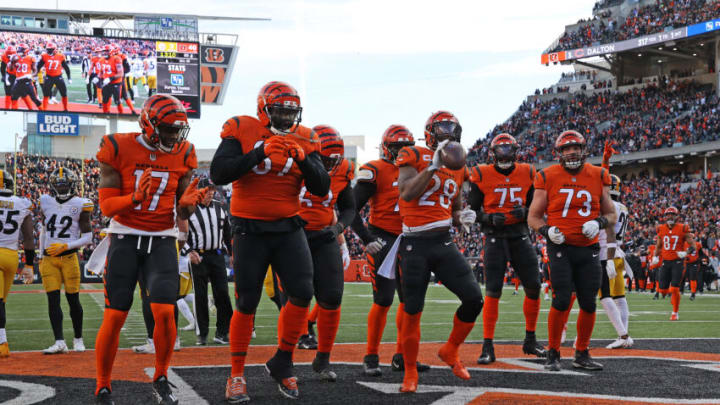 Joe Mixon, Cincinnati Bengals (Photo by Dylan Buell/Getty Images) /
Mandatory Credit: Charles LeClaire-USA TODAY Sports /
Cal Adomitis, LS (Pittsburgh)
Long snapper is not the most glamorous position, but it is essential. Just one bad snap could change the fortunes of a franchise.
By numbers alone, Cal Adomitis will have an opportunity to make a splash for either the Bengals or another NFL squad. He only has one player, Clark Harris, ahead of him on the roster. Thus, Adomitis has the most direct path to the roster.
But that does not include only the Bengals roster. All it takes is one injury or one long snapper on another team to have one bad snap, and a team will be on the phone with Adomitis' agent.
The team knows what Clark Harris gives them so they will probably give Adomitis plenty of action in the preseason.
It is unlikely that the Bengals will choose to move on from Clark Harris this year. Unlikely, but not impossible.
According to Over The Cap, releasing Harris would save the Bengals $895,000, leaving the team with a $152,500 cap hit. So, from a financial standpoint, it would not make much sense. However, those numbers are not large enough, in either case, to be a factor in deciding whether to move on from Harris.
Harris has been perfect throughout his career. The Bengals are preparing for another Super Bowl Run. Odds are they will not want to mess with that part of the kicking game. As the French say, 'If it ain't broke, why would you try to change it.' Or something like that.
However, Adomitis should get the majority of long snap snaps in the preseason, possibly allowing him to land with another team this year. Or, next year in Cincinnati if the Bengals move on from Harris or he chooses to hang up the cleats.
Like every year, the undrafted rookie free agents have a more difficult path to making the roster. They must take advantage of every opportunity. We should expect these five to do just that.
Stripe Hype /
Want your voice heard? Join the Stripe Hype team!
Who Dey?!