Bengals should beware these 3 potential trap games in 2022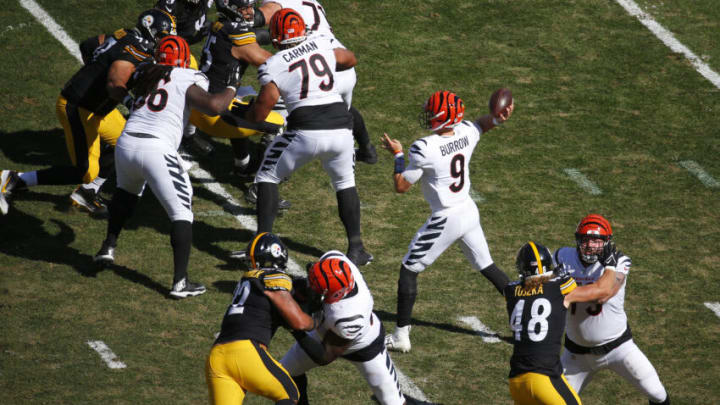 Joe Burrow, Cincinnati Bengals (Photo by Justin K. Aller/Getty Images) /
Every NFL season, every team has some games on the schedule that are traps for lack of preparedness and attention. That's no different for the Cincinnati Bengals in 2022.
No matter how much you prepare, or much talent you amass there are still games that will catch your team off-guard. There are only 17 games in the NFL season so the margin for error is small. Yet there are games that your team should win and will inexplicably lose. These are your classic trap games. The Bengals definitely have some potential trap games on the 2022 horizon.
Bengals Trap Game No. 1 – Week 1 vs. Steelers
Possibly the biggest trap game of the season could come in week one at home against the Steelers. One of the Bengals' biggest rivals will have to come into their house and watch the team hang the AFC Championship banner.
That alone may be motivation enough to want to beat the Bengals. Currently, the plan is for Mitchell Trubisky to be the Steelers' starter at quarterback. At least he is tapped as QB1 going into camp according to Kevin Dotson confirmed by his comments to the media.
"They pretty much said it already that Mitch is going to be number one," Dotson said. "We're going to take what we get. We don't really care who's behind us when it comes down to it. We're going to play hard regardless of who's behind us"
However, as any football fan knows anyone can win a starting job. Maybe Kenny Pickett will turn out to be their guy quicker than expected. If Mike Tomlin believes that Pickett should be the starter, then the Bengals will be facing a quarterback they've never seen take a professional snap.
Also, no one should ever underestimate Tomlin. He is one of the best coaches in the NFL and knows the Bengals better than most. Tomlin almost took the Steelers to the playoffs with Mason Rudolph. If anyone can beat Cincy at home with a rookie or a backup quarterback, it is him.
In addition, week one games are always crazy. Everyone is shaking off the rust and because of that teams who should lose, win, and vice versa. So it won't come as a surprise at the end of the season if a Steelers team if a losing record did win in week one at Cincinnati.