Is Bengals training camp open to the fans? How to get tickets
Training camp begins on July 26.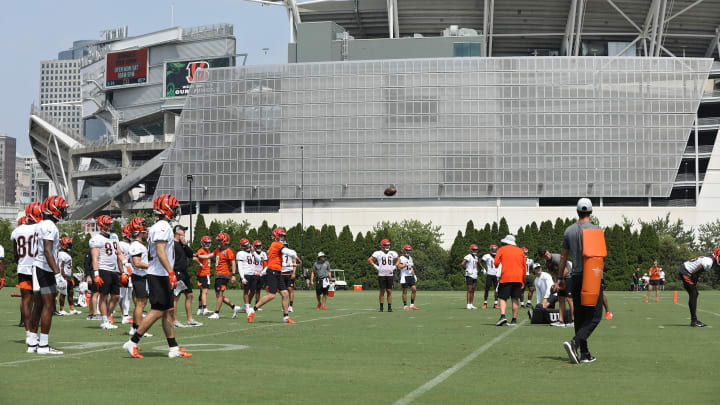 Cincinnati Bengals Training Camp / Dylan Buell/GettyImages
The Cincinnati Bengals will open up training camp on Wednesday, July 26 and training camp will continue up through the final preseason game.
A common question people might have surrounding training camp is if fans can attend or not. There are open practices for Bengals training camp this year, 10 dates to be exact.
When is Bengals training camp open to the public?
There are 10 dates where fans can attend Bengals training camp:
Wednesday, July 26
Thursday, July 27
Friday, July 28
Saturday, July 29 (Back Together Weekend)
Monday, July 31
Tuesday, August 1
Thursday, August 3
Friday, August 4
Sunday, August 6
Monday, August 7
How do fans get tickets to Bengals training camp?
Per the Bengals' official website, no ticket is required to attend training camp.
"The Kettering Health Practice Fields have bleacher seating for 1,250 fans next to the fields, plus additional standing room along the sidelines. Admission is free and no ticket is required. Fans are encouraged to arrive early since capacity is limited and admission is on a first-come, first-served basis. "

- Bengals.com
So, there you have it. If you're wanting to attend Bengals training camp, you simply need to arrive to the Kettering Health Practice Fields early and be willing to stand if there's no room on the bleachers.