Cincinnati Bengals: Is Leon Hall Signed Yet?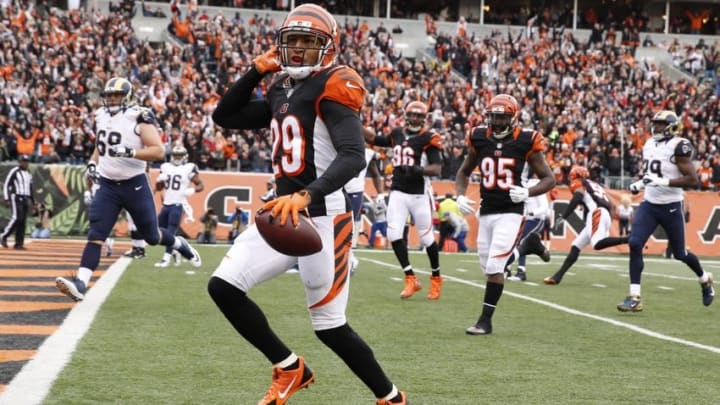 Nov 29, 2015; Cincinnati, OH, USA; Cincinnati Bengals cornerback Leon Hall (29) runs back an interception for a touchdown against the St. Louis Rams in the second half at Paul Brown Stadium. Cincinnati defeated St. Louis 31-7. Mandatory Credit: Mark Zerof-USA TODAY Sports /
Leon Hall is still looking for a place to call home. Could he be the solution, until William Jackson III returns?
One thing the Cincinnati Bengals have learned to do is never say never. When the 2016 NFL Draft ended, all eyes were on the steals that Bengals brass pulled off. Prospective players were acquired on both sides of the ball. With the draft looking like a perfect robbery, the only thing left was a smooth training camp. Stop the music. First-rounder William Jackson III is now among the walking wounded. Could Leon Hall make a return to the shores of the Ohio River? 
We'll decide what the best options are, based on where Will is.
It all sounds like the plot for an action movie. The aging veteran has been playing hurt. His team lets him test the free agent waters, to find out his value. Both sides seem to move on. Suddenly, the Bengals find a brash, young cover guy. He's been lingering in the draft too long. They snag him, knowing that the Pittsburgh Steelers have been hoping he slips. Anger builds (dun, dun, dun!) over social media.
When Jackson pulls his pectoral muscle, every Bengals fan—north of oblivious—has one collective thought. Hall will make a reappearance in Bengals stripes.
The negotiations are still ongoing. Head coach Marvin Lewis says the organization has no ill feelings towards Hall. There's a chance things could evolve. 
Hall underwent offseason back surgery, to correct problems that hindered him during the 2015 campaign. Now that Jackson will be spending significant time in the trainer's room, the re-signing of Hall would come as no surprise.
When Hall is was healthy, he was a true force for the Bengals. Yet, in recent years he had slowed down. Obviously, the back issues had caused serious pain. Fans often criticized his play. When you're playing hurt, suddenly, things get put into perspective. But, the bottom line is production. 
More from Stripe Hype
There are talented secondary players still looking for jobs. Yet, the return of Hall would make more sense. Spending all of his career in the Bengals' system is a definite plus. There was some experimentation with playing him at the safety position. His ability to switch makes him a valuable backup. 
With that in mind, there could be potential money problems with agents looking for that huge payday. Hall could be a dependable plan B if the surgery proves to be successful.
Hall is scheduled to talk with the New York Giants, on Wednesday. The door is still open for a Bengals return, but teams will no doubt raise the ante.
"We've been in contact with players all the time," Lewis said, per Cincy Jungle. "We'll decide on what the best options are based on the projections on where Will is."
Hopefully, the Bengals will make the right choice. Great decisions have resulted in a top-tier defense.