Cincinnati Bengals at Dallas Cowboys: A Winnable Week Five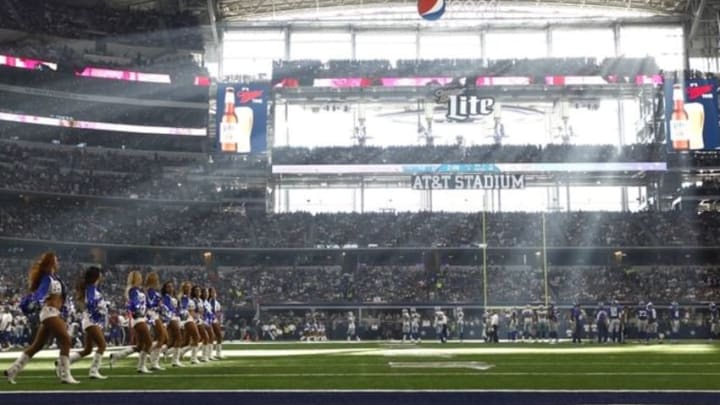 Sep 11, 2016; Arlington, TX, USA; The Dallas Cowboys Cheerleaders perform during the game between the Dallas Cowboys and the New York Giants at AT&T Stadium. Mandatory Credit: Erich Schlegel-USA TODAY Sports /
The Cincinnati Bengals will head into AT&T Stadium looking to beat the Dallas Cowboys and improve to 3-2, but how winnable is this match up?
The Cincinnati Bengals haven't beat the Dallas Cowboys since 2004 and it has been since 1988 when the Bengals last won in Dallas. The Cowboys are a surprising 3-1, after Tony Romo reinjured his back in the preseason. So, what is so special about this game?
First, It guarantees that the Bengals can not leave New England in week six with below a 3-3 record. Second, the Bengals are finally the complete team with the return of Vontaze Burfict and Tyler Eifert. Most Importantly, it helps them keep pace with the Pittsburgh Steelers and Baltimore Ravens, who are both 3-1 heading into this week.
This match up is not the end of Marvin Lewis with a loss, or their post season dreams in 2016. However, this is a winnable game and that is what the Bengals have become very good at finishing over the past few years. How winnable is their week five match up?
Here are some of the numbers on Defense:
More from Stripe Hype
The Dallas Cowboys have only recorded six sacks in their first four games four games. The Bengals have recorded nine, five just last week.
The Cowboys have allowed the 18th fewest yards (358.8) in the NFL, The Bengals are ninth (322.8) in fewest yards allowed.
The Bengals have six forced turnovers. The Cowboys, have five.
The Bengals Defense have allowed 36% on third down conversions compared to 44% by the Cowboys.
The Numbers on Offense:
The Cowboys have beaten teams offensively, who rank in the bottom of the NFL in defense. 49ers 23rd in points against (26.8 ppg), Redskins 26th in points against (28), Chicago Bears 19th in points against (24.2). Their only loss came against the 15th ranked defense (21.2). The Bengals rank 13th in points against (20.5).
The Bengals losses have come against the 11th ranked defense, Pittsburgh Steelers (20) and 5th ranked Denver Broncos (16). The Cowboys are 10th (19.2). The Bengals beat the New York Jets who rank 21st (26.2) and Miami Dolphins rank 16th (22.2).
The Bengals pass offense ranks third with 291 yards per game. The Dallas Cowboys ranked 21st in passing with 246.8 yards per game.
The Dallas Cowboys in the rushing game are second with 149 yards. The Bengals are 28th with 80.8 yards. The only stat the Cowboys lead exponentially in.
Next: Bengals at Cowboys: An Early Look
The Result:
The Bengals are facing a beatable Dallas Cowboys team on Sunday. They are not facing a uphill climb more than a level playing field. If the Bengals offense can get on the right path with the return of Eifert, Dallas will have it's hands full.