Bengals vs Chiefs AFC Championship Game weather forecast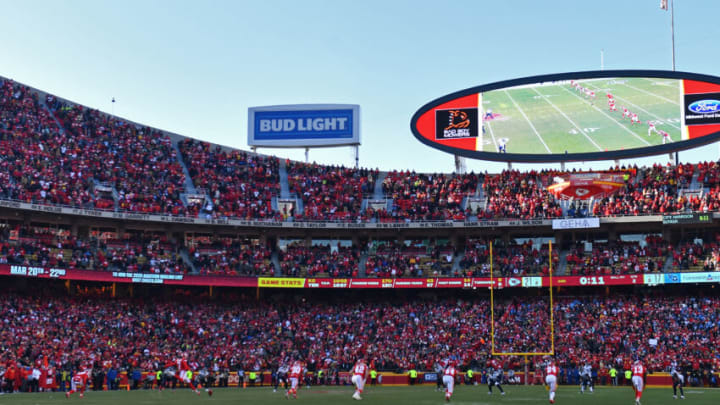 (Photo by Peter G. Aiken/Getty Images) /
The AFC Championship Game takes place at 3:00 EST and it'll be the Cincinnati Bengals vs. the Kansas City Chiefs. What is the weather going to be like in Kansas City for the game?
It's going to be perfect football conditions for both teams on Sunday, as the expected temperature at the 3:00 EST kickoff is 43 degrees with northwest winds up to 5 MPH.
It'll stay roughly the same temperature throughout the game and the conditions should help Evan McPherson continue his dominant kicking playoff streak, especially with the wind not expected to change drastically.
The official National Weather Service based out of Kansas City projects it'll actually get warmer as the game goes on. Kansas City this time of year can be chilly so the Bengals and any fans would made the trek from the Queen City lucked out if they plan to sit in the stands for the biggest game since the team last appeared in the Super Bowl.
Bengals-Chiefs AFC Championship weather forecast
This is the only game that stands in Cincy's way of making it to their first Super Bowl since the 1988 season. They haven't been in this position since then while the Chiefs are making their fourth straight appearance in the game, having hosted all three and going 2-1 in that stretch.
With both offenses capable of scoring at the drop of a hat, it's good to see that the conditions won't prevent such a shootout from taking place. Hopefully, the Bengals' offensive line can play significantly better than a week ago and not allow more than a few sacks (asking them to not allow any is a stretch).
"3 things for Bengals fans to watch vs. Chiefs in AFC Championship"
If you're at the game, enjoy the moment! The weather should make it easier to do. Hopefully in two weeks, we'll be talking about Los Angeles weather!