Bengals 2022 mock offseason: Predicting free agency and the draft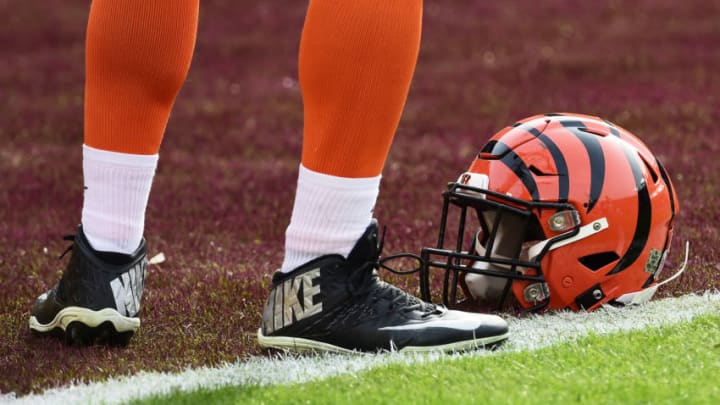 Cincinnati Bengals (Photo by Patrick McDermott/Getty Images) /
Trae Waynes, Cincinnati Bengals (Photo by Greg Fiume/Getty Images) /
The Cincinnati Bengals had a Cinderella run in the 2021 season. Going into the year projected to be one of the worst teams in the league, Zac Taylor, Joe Burrow, and co. proved everyone wrong and won the AFC North, became AFC Champions, and came within moments of winning the Super Bowl.
However, the Bengals did not win the Super Bowl, and their quest for the first title in franchise history continues. This upcoming offseason will be crucial for the Bengals, as they try to create a team that cannot just go to the Super Bowl but win it.
In the following slides, I will predict the Bengals' offseason. My takes on cap casualties, free agency, and the draft will all be covered. We'll start with cap casualties, using Spotrac as a guide.
Cap Casualties
Trae Waynes – $10.9M saved
This move should come as no surprise to anyone who has followed the Bengals over the last two years. Brought in as one of the first big moves during the Bengals' changing approach to free agency, Trae Waynes has had a disappointing two years with the Bengals.
He spent the first year and a half of his time in Cincinnati unable to see the field due to injuries, and once healthy was relegated to the bench to sit behind Eli Apple. As one of the most expensive players on the Bengals' roster, that will not suffice.
Waynes may be released by the Bengals before I finish writing this article because it's a matter of if, not when.
Trey Hopkins – $6M saved
At the end of the season, I would have expected Trey Hopkins to return in 2022. The veteran center struggled early on in the 2021 season as he returned from an ACL injury, but he began to play at a much better level during the Bengals' second half of the season and was by no means the reason the offensive line performed so poorly.
However, rumors of the Bengals' interest in free-agent centers tells me all I need to know. The writing is on the wall — Cincinnati wants to replace Hopkins, and he is far too expensive to keep around as a depth piece. If he doesn't have much interest as a free agent, maybe he comes back on a more team-friendly deal.
Brandon Wilson – $2M saved
Brandon Wilson is an explosive kickoff returner, but his time in Cincinnati may come to an end sooner than expected. First of all, he suffered a season-ending injury in the 2021 season and it is yet to be seen how he looks upon return.
Additionally, special teams coordinator Darrin Simmons expressed a desire to add a player who can be dangerous as a punt returner. Due to Wilson's inability to return punts, the Bengals may choose to move on and pursue a player who can be more versatile as a return man.